Submitted by

SchwebAdmin

on Thu, 07/19/2018 - 10:15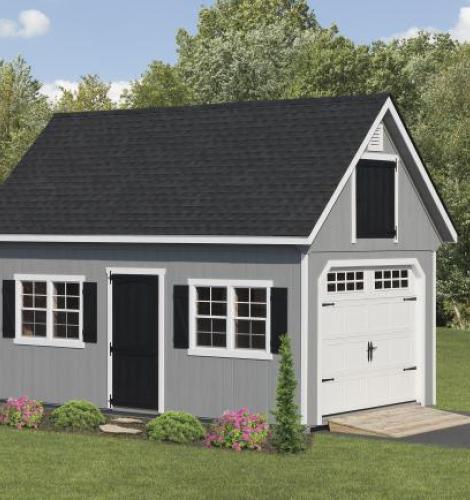 Garages are unfinished spaces with tons of potential. Use your creativity, effort and imagination to transform it into a new kind of space: a workshop, hangout spot, or granny flat.
Space Makers Sheds sells a variety of garage styles that can be easily renovated and converted into a functional space that receives daily use. The following garage conversion ideas will rev up your desire to convert yours into something unexpected. Be sure to check local townships regulations before making changes to the inside of the garage.
Convert a Garage into a Granny Flat
The Classic Garden Cottage Garage and the two-story Elite Classic Garden Garage with their refined style may be repurposed into a granny flat. Two oversized windows with shutters allow natural light to pour into a space, making it feel extra roomy. Finish off the Classic Garden Cottage Garage and create a spot to retire. The windows offer a lovely backdrop and provide a great opportunity for window boxes and ample natural light.
Inside, add curtains, rugs, and simple furniture like a comfortable rocking chair, daybed, and antique trunks that can double as a coffee table and storage. The daybed functions as a couch and bed to make the most of the small space. Pop some art on the walls and with a little ingenuity, you'll create a pleasant spot to for your loved one to rest while staying close to home.  After all, multi-generational households are becoming the norm.
If one floor isn't enough to create this vision, look to the apex roof of the Elite Classic Garden Garage to give you extra space. Think of it like an attic in your home. By finishing it you could create a living space downstairs and a guest room upstairs. If your loved one can't make it up the stairway inside, consider adding a stair lift.
Garage Transformation into a Living Space
Need a hangout spot but short on space? Repurpose the Elite Classic Garden Dutch Barn into a family room that's away from the house. It's a great idea for rowdy teenagers who want privacy and a space to call their own. This allows you can keep an eye on them from the house while keeping the noise level to a dull roar.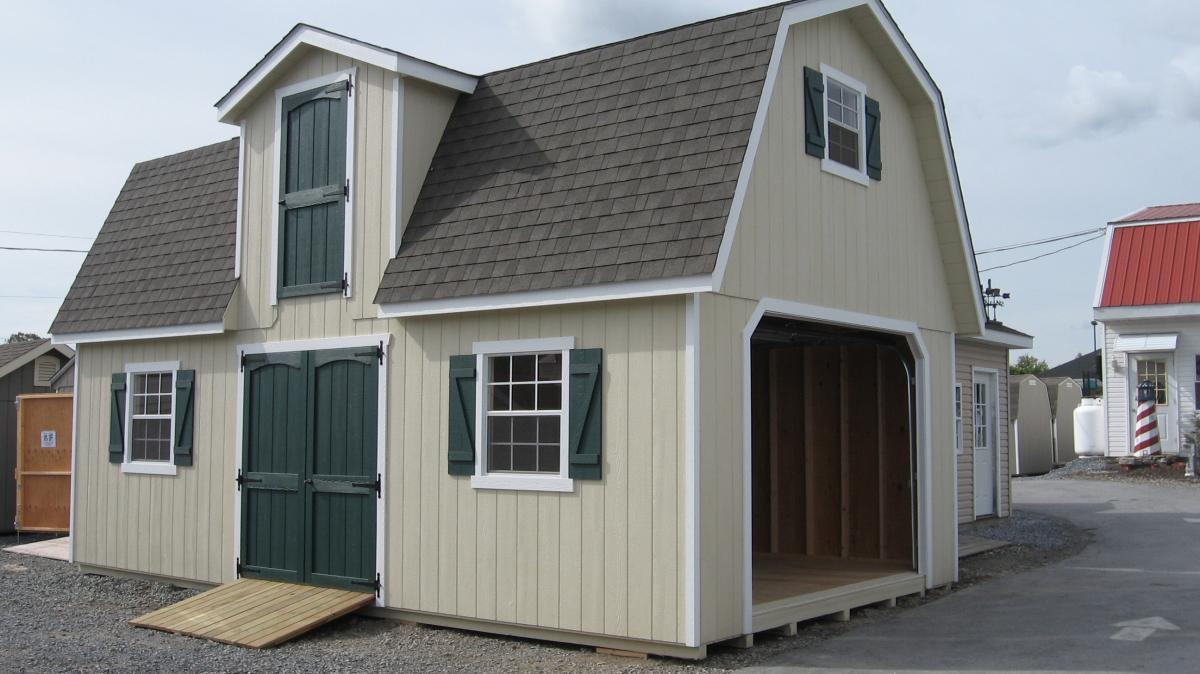 Finish off this space with a smart style furniture that cleans up easily. Add durable flooring and fixtures that can withstand heavy traffic, and you've just expanded your living area by no less than 10'x16'. Better yet, inside steps on the Elite Classic Garden Dutch Barn mean your family will have two floors of added living space.
Consider wiring it with electricity, add games and electronics, and you've created a spot for your children to hang out with their friends.
Now you can tell the kids to go outside and play—even if it's raining.
Love Your New Garage Office
The finely crafted Cottage Garage with its reinforced floors gives you the perfect opportunity to create a craft or office space. With minimal updates you can transform this high-quality garage into a visually appealing place to work.
Add drywall. Paint it neutral. Leave the ceiling unfinished for an interesting architectural detail. The clean backdrop will allow the focal point to be your interesting storage options. Then, add further details that work well in an office. Store cords in binder clips. Paint a blackboard wall to keep track of your upcoming projects. Add hooks to the ceiling for extra storage. Install crown molding along the perimeter to hold books, plants, and knickknacks.
Finally, fill the space with durable furniture like desks, chairs, high traffic rugs, or garage floor paint. You'll create a space where you look forward to your labor.
Whether it's converted into a granny flat, living area, or office space, a garage has a wide range of uses aside from simply storing your vehicles. Check out our selection of garages today!