Submitted by

SchwebAdmin

on Thu, 10/20/2022 - 15:09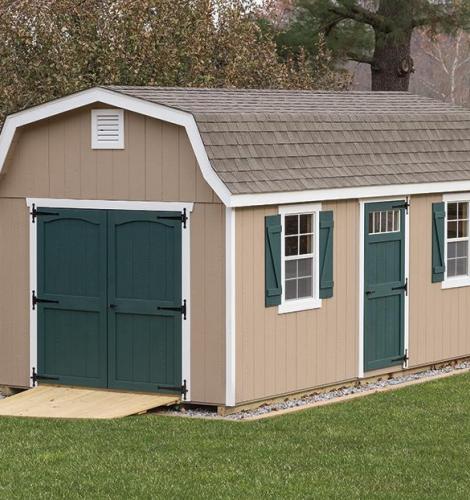 While organizing your shed can seem like a daunting task, it doesn't have to be. Focusing on preventing clutter and misplaced items in your storage shed now will help you stay organized down the road. With these 7 tips for organizing your shed, you'll be ready for spring activities in no time!
1. Opt for Vertical Storage
Choosing vertical storage for your shed will give you more open floor space and make everything less cramped. When storing items in a small space, focus on utilizing as much vertical space as possible for storage. Even without a loft, adding hooks to your shed walls and ceiling will help you fit more things in your shed. For example, bikes can be hung from the ceiling or on the wall.
2. Use Hanging Storage
Pegboards are a great way to keep your tools organized and easy to find. Because they can be moved around, these wall-hanging storage structures are incredibly helpful when you want to reorganize or add new, larger tools to a pegboard. You can also organize your tools by hanging a magnetic strip on the wall as a catch-all for metal tools.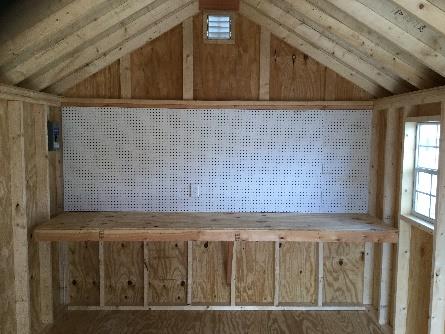 Likewise, installing hooks on your shed walls for hanging large lawn tools is a great way to stay organized. Hanging your shovels, brooms, rakes, hoes, pitchforks, and other large tools clears up your floor space, prevents tripping hazards, and keeps your lawn tools from getting broken and nicked. You can do the same by wrapping and hanging garden hoses on your shed wall with large, steep hooks.
3. Add Shelving and Storage Containers
Having a form of shelving in your shed, whether it's through installing shelves or adding free-standing shelves, creates space for storing large items and bins. After labeling some large bins, you'll easily be able to find holiday decorations, seasonal items, cords, and supplies. Plus, storing your items in bins provides an extra layer of protection.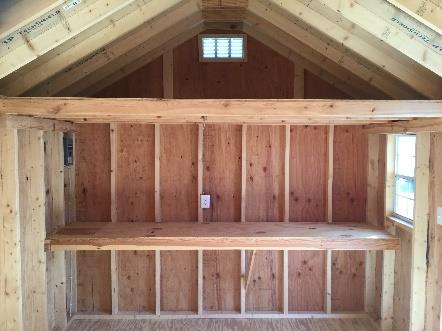 Clean up, organize, and store away hardware like nails, screws, washers, bolts, and nuts. While you can buy all new storage containers to organize your stored hardware, you can clean and reuse glass jars you may already have around the house such as jam jars, sauce jars, and mason jars. Choosing shelving that is adjustable will help you for years to come as you can switch around your storage to fit quantity and size.
4. Organize by Function
Keep stored items together that have a shared function and use. For example, keep all your gardening equipment together and separate from your woodworking tools. This will help you quickly find what you're looking for and lets you know what you actually need and use.
Drawer organizers are another great way to organize your hand tools and hardware. If you have a workbench with drawers in your shed, adding organizers will prevent a pile of miscellaneous items from gathering in the drawers. Additionally, chemicals and hazardous materials should be stored high off the ground so children and animals cannot get into them. Ultimately, your shed is your space so organize it in a way that makes sense to you and is safe for those in your household.
5. Utilize Shed Doors
Just like the walls of your shed, your shed doors can be also used for hanging storage. You can hang frequently used items on the inside of your shed door so you can quickly grab what you need without having to go into your shed. This can include hanging tools, bike helmets, and other regularly used items on the inside of your shed door.
Additionally, if you and your kids frequently play ball you can add shelves or hooks to store sports equipment for quick access. With these items stored right on the inside of the shed doors, you won't need to worry about your kids tripping on anything in the shed or getting near dangerous tools when they want to play.
6. Move, Donate, or Sell Items
Spring is a great time to reorganize your shed and clear out items that you no longer use or need. You want to make sure that everything you have stored in your shed can withstand temperatures rising and dropping. Items that can't withstand temperature changes or exposure to moisture, such as paint and charcoal, shouldn't be stored in your shed.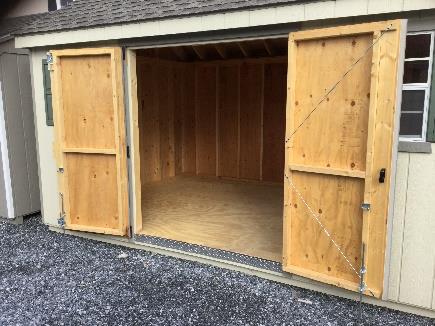 Additionally, go through everything in your shed and decide what you should keep and what you no longer need. If you got new tools for Christmas, instead of adding them to your ever-growing collection, consider donating or selling older tools that you have replacements for. Keeping your stored items up-to-date and reorganized every few years ensures that you are making the best of the space you have and keeping your life clutter free.
7. Upgrade to a Bigger Shed
If you find that you just don't have the space to store everything you need, it may be time to upgrade to a bigger shed or add another storage solution. You might find that adding a garden shed to store all your gardening equipment, creating your own workshop shed, or getting a garage will be just what you need.
Ready to make the upgrade to a bigger shed or add a storage building to your property? Our online 3D shed building tool can help you create and customize the perfect storage solutions for you and your family. Have some questions about options and how much storage space you need? Our storage experts are always available to answer any questions or concerns you may have.