Submitted by

SchwebAdmin

on Tue, 08/31/2021 - 10:51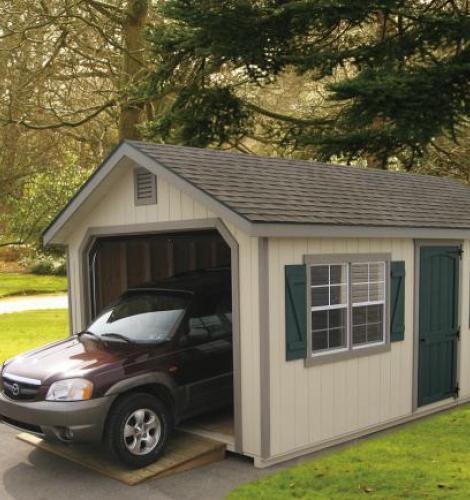 Every automobile owner knows that harsh weather can cause a range of problems for your vehicle (and bank account). That's why you should consider whether investing in a standalone, one, or two-car detached garage would benefit you and your car in the long haul.
Learn about the available options and models from Space Makers Sheds below! Get the extra space you need and the look you want. Our professionals can customize a design for your ideal garage.
Detached Garage Basics: What You Need to Know
You may not have considered the benefits of a detached garage. Depending upon your property or lot, these structures can often be designed to cater to the space you have. Parents of young children or other caregivers may also appreciate the increased safety that comes with a detached garage. With no direct pathway into the home, you will never have to worry about carbon monoxide fumes gaining entry through a neighboring garage door.
More unconventional reasons to consider before purchasing a model might include how you intend to change the purpose or use of your garage over time.
Keep these potential future uses in mind as you look at our selection, and do not hesitate to ask us how we can help you achieve multipurpose storage goals!
One and Two-Car Options: Classic Style Meets Efficient Storage
If you have ever wished for a fully assembled, custom garage to be delivered to you directly, this is one dream that can come true! Both one and two-car models from Space Makers Sheds are equipped with overhead and side doors for simple entry.
Whether your major goal in purchasing a detached car garage is to have more room for storage or to add a beautiful aesthetic to your home, you'll be delighted by the selections at Space Makers Sheds. Read to learn more about some of our traditional and contemporary models, which can be customized to meet your specific needs, tastes and preferences!

Classic Option: "Elite Classic Garden Dutch Barn Garage" Experience the perks of country living and culture with our classic Dutch Barn style detached garages. Overhead storage space also helps you to store other loose items, equipment, or tools. We know you'll adore the matching shutters and oversized windows.
Efficiency Storage Option: "Doublewide Two-Story Garage" Have a few cars and a lot of items to store? We have you covered. Look no further than our Doublewide Tw-Story detached models, which feature an entire second floor. In this sense, you get two garages in one: the first for housing your vehicles, and the second for storing your belongings. Ask us for pricing information on adding a concrete foundation!
Contemporary Option: "Classic Garden Cottage Garage" If you are not a fan of the typical look of a detached car garage, investing in a more aesthetically appealing model may be the right choice! Check out our Classic Garden Cottage Garage, which is more like a miniature home for your vehicle than your everyday garage.
Stand Alone Garages: The Bottom Line
At the end of the day, your biggest decision will be whether to invest in a single or double car option. Once you have decided on that, you can determine whether a two-story option would have an added benefit for your storage needs.
Don't Take Our Word For It - Browse Our Customer Testimonials
We're dedicated to making the entire process of ordering your detached garage and having it delivered a 5-star experience. That's why we're proud to share reviews from previous customers with our new or potential clients, so you can get a feel for the ability of our talented craftsmen.
Get in Touch to Bring Your Storage Dreams to Life!
One of the reasons we love doing what we do at Space Makers Sheds is because we get to see the look on our customer's faces when we bring their storage garage dreams to life. Whether you are looking for catalogs of our products, inventory listings, or contact information, you can find them on our website.
We're always happy to talk shop, review your own blueprints or generate ideas. What are you waiting for? Get in touch with our team today and design the perfect detached car garage model for your needs.