Submitted by

SchwebAdmin

on Tue, 08/14/2018 - 11:01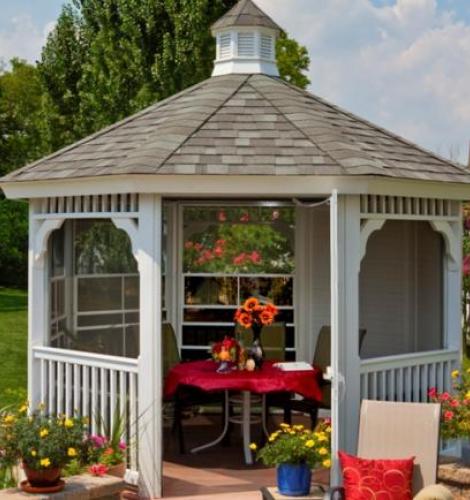 Gazebos are found all over the world and serve as outdoor entertaining areas. These high-quality freestanding structures provide shelter from the sun on hot summer days and give you the opportunity to feel the warm breeze. It's no surprise why they're popular: everyone enjoys spending time outside in a shady spot protected from the sun's rays and rain. Gazebos add serious curb appeal to your home and come in two materials.
First, we offer pressure treated lumber that is moisture and rot resistant wrapped in maintenance-free white or almond colored vinyl.
Second, we offer pressure treated lumber that can be painted, stained or refinished to match your existing home. To decide the best material, consider the current siding material of your property, your color scheme, and whether you'd prefer a traditional or classic style. Wood offers a traditional look; vinyl looks classic.
Typically, gazebos provide an intimate and comfortable outdoor entertaining area that's set apart from a home's patio, but they're not limited to a single space in your yard. Consider how you can enhance your space with four different styles of gazebos.
Octagon Vinyl Gazebo
Made from premium quality materials including pressure treated lumber wrapped in vinyl for a maintenance-free structure, this vinyl gazebo that is ideal for the muggy east coast summers. Simply power wash the structure periodically and enjoy the outdoors all season long in an intimate atmosphere.
But don't limit your imagination to simply any old level spot in your yard.
Vinyl gazebos look amazing when they're raised slightly on a back deck or when they jut out over a stream, water feature, or near a waterfall. 
They work just as well in a secluded woody space as they do out in the open with a vast view of the yard. Neutral vinyl colors complement all garden styles.
Oval Wood Gazebo
Wood gazebos offer a traditional look. They're not perfect ovals. Rather, they look more like elongated gazebos. These sturdy structures can be painted in unlimited colors, stained in five different pigments, or refinished later when you want to revamp the look. Many are placed away from home or patio to provide a different view of the yard.
Gazebos also serve as the yard's focal point.  Add a wooden swing inside this American Colonial style, add bench seats for an intimate space to talk, or place along a brick or flagstone pathway as a resting place after a long walk. Since they're roofed, they'll provide shade and shelter.
Perhaps you'd like a gazebo to be an extension of your indoor living area. Decorate an oval wood gazebo to match your home's look and feel. Add additional wicker seating or place a rug on the floor. Toss pillows on the chairs and you've got a space to lounge and relax. You'll create a cozy outdoor entertaining area apart from a patio that feels like an extension of your home.
Want to eat outside? Place a gazebo near your kitchen for easy dining or place a grill beneath the canopy to cook while staying cool and dry. Prefer to work in the open air? Wood gazebos are great for an artist or writer who needs a quiet space to collect thoughts. Enclose with netting to keep insects off your next creative project.
This gazebo offers ample space and the sturdy design when properly maintained will last 20 years or more.
Rectangle Wood Gazebo
Rectangle wooden gazebos aren't limited to your home. These permanent structures work well at your family's camping area.
This larger design can house bigger groups and offers space for several different seating areas. The open design and large space to gather will give loved ones plenty of room to move without bumping into one another.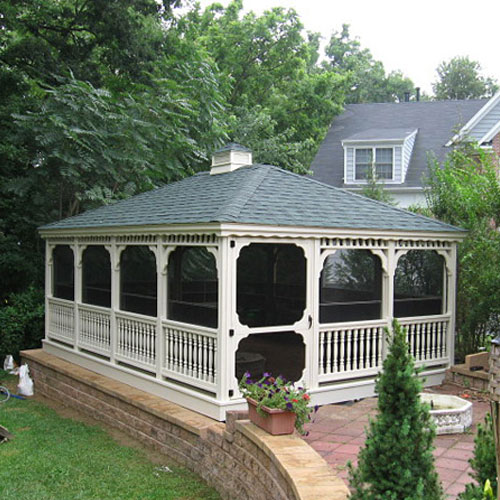 The wood enhances the traditional camp feel. Add a screen you're able to keep mosquitos, flies, and yellowjackets away. Consider adding a picnic table or poly furniture inside to enjoy a hearty family meal near a barbecue pit. The pressure treated shelter offers a shady spot to sit and relax. Enjoy the smells and sounds of an impromptu summer storm from the safety of this sturdy piece of architecture.
Vinyl Rectangle Gazebo
The clean lines of this gazebo look classic when poolside. Swim during the day and rest under the sturdy roof for a bit of shade when you grow tired. Rectangle gazebos afford maximum space and can easily fit a hot tub. The hard top withstands heavy snows which means you can enjoy your jacuzzi all year long.
Larger rectangular gazebos create a backyard retreat. With the right architect you can even have a pool built around a gazebo. You could even perch your gazebo higher than your pool for an expansive view.
Suspend it slightly over a pool, equip it with a TV, furniture and lights, for a soft glow, or add a small fire pit inside. You'll dry off quickly after a dip in the pool and enjoy the warmth and ambiance as the day rolls into evening. Sit on lounge furniture and relax. Love water but don't have a pool? Gazebos are perfect for large lakes, boating areas, and marinas.
No matter which of the four different styles of gazebos you choose, each is handcrafted by Amish artisans in Lancaster County and offers enjoyment for a lifetime.