Submitted by

SchwebAdmin

on Fri, 07/23/2021 - 15:52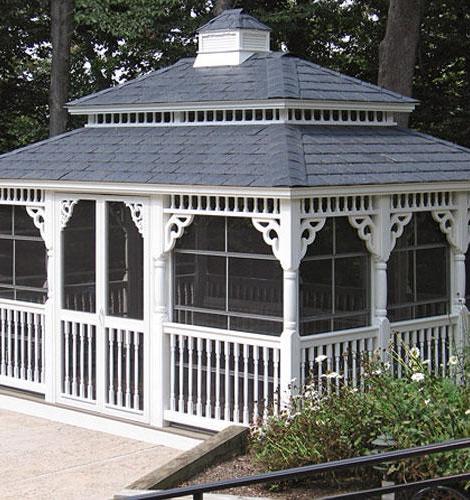 Summers feel as though they are getting hotter and more humid every year. But there's no doubt that consistent comfort and style can be yours with a backyard gazebo or pergola! If you're weighing your options about how to improve the aesthetic of your home while providing a place to dedicate to your family's favorite pastimes, these are wonderful selections to consider.
Read on to learn more about the two units, and which one is the perfect fit for you. We'll cover everything from price, to maintenance, and style options.  
Pergola vs. Gazebo: The Basic Pros and Cons 
Price Consideration Basics 
You might be surprised to learn that the price of your future gazebo or pergola depends more on the material and size than anything else. This being said, the benefit is that you can expect to pay about the same for either type of structure, depending on how you customize your selection. 
Maintenance and Upkeep Requirements
As both gazebos and pergolas tend to come in wooden options, both can be treated similarly if the same material. For instance, you should plan a regular schedule of applying sealant and consider the regular weather your structure is exposed to.  
Types and Styles
Have a large family? No problem! We are prepared to help you find the size, material and options that are right for you. Choose from different shapes, capacities, colors, and roof pitch. Keep in mind any backyard structures that might make a higher peak more difficult to accommodate, or branches that hang.
You can also decide which finishes and materials make the most sense for your schedule, as any option will require some degree of ongoing and regularly scheduled maintenance.  
Deck Pergola Ideas: Upgrade Your Backyard This Summer
Make Your Space Inviting!
Whether that trendy (but slightly outdated) chair from a decade ago is ready to move out of the living room, or you want a place to dedicate to your favorite color, the ideas around pergola decor are endless.  
Match the paint of your wooden pergola or gazebo to your favorite pillows, and then have fun reverse pairing additional items from there. Or, incorporate a beachy feel for the summer, and convert to a country fall theme in September. 
Dedicate or Theme by Your Favorite Hobbies
There's no better way to plan your decor or theme, than by analyzing your own daily interests! Use your or your family's favorite sports, past times or talents to plan how you will use your new outdoor pergola. 
For instance, if your family enjoys board games, you can incorporate cubbies, storage ottomans and stackable shelves to house all of the best family night classics. Invest in oversized pillows so everyone has a comfortable place on the floor to spread out and get playing!
Frequently Asked Questions About Gazebos
What is the typical price for a gazebo?
Begin picturing this outdoor structure for what it is, and you will also understand why the average price will run you anywhere from $3,300 to about $9,000. Again, most of the price depends upon the size you choose, as you will need more materials. Customizable options and extras will also run your bill up, although these can have striking aesthetic benefits once applied. 
Does having a gazebo increase your home value?
Considering that home improvements such as landscaped patios can add upwards of 10 percent to your home's value, it's no wonder a gazebo is an appealing idea. You can expect the appeal, design, and beauty of your structure to improve the overall aesthetic of your property.
In addition, your friends and neighbors will be sure to notice the home improvement. You may need to fend off requests to borrow or visit your new gazebo or pergola if you are not careful!
Ready for a Pergola or Gazebo? Browse Our Selections
Whether our Traditional, Hearthside, Arcadian, or any of our other styles of pergolas catch your eye, we are confident there is a perfect outdoor structure for you.
If a gazebo is calling you in the other direction, we can help you sort through Dodecagon, Octagon, Oval and Rectangular styles with ease. Get in touch with our expert craftsman today, in a location near you!