Submitted by

SchwebAdmin

on Mon, 03/21/2022 - 09:39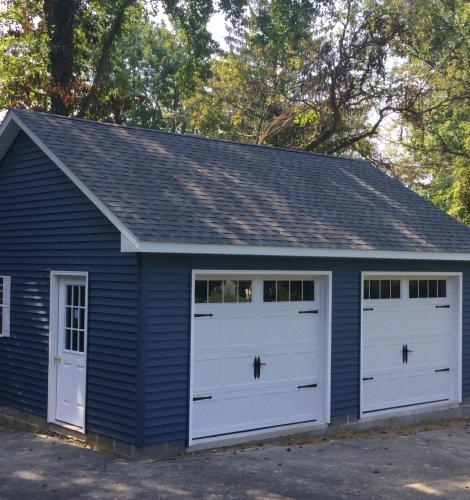 The two-car garage is a highly sought-after feature for homeowners, and can often be a deal breaker for families looking to upgrade their home. We noticed our customers' need for more space for extra cars, lawn equipment, and additional storage, and developed our line of pre-built modular garages. Let's take a look at our favorite two-car garages and some creative design ideas to craft the perfect structure for you.
Pre-Built Garages
At Space Makers Sheds we specialize in pre-built garages that are delivered to our customers' properties fully or partially assembled. This minimizes construction noise on your property and often allows us to fully install your new garage in just one day on-site.
Don't let the term "pre-built" turn you off; Space Makers' garages are all fully customizable with various window, door, siding, roofing, and interior finishing options. If you are interested in learning more about our custom two-door garages visit our 3-D Shed Builder page, or contact us for a custom quote.
Two-Story Garage with a Living Space
One of the biggest benefits of a two-story garage is having the ability to convert the 2nd floor into a living space. As families grow, expanding the home to the garage can be a great way to create a private refuge to pursue passions and hobbies. The second floor can be converted into a man cave, art studio, pool room, and so much more.
Many of our customers have also converted the second floor of their garage into an apartment or in-law quarters. Our two-car garages have plenty of space for a studio apartment, perfect for in-laws, visiting relatives, or even an Air BNB to bring in some extra income.
Before you convert your two-story garage it is important to check your local zoning codes to make sure there are no restrictions on detached living spaces.
Garage Design Ideas
It's no secret that garages have a tendency to get cluttered. Let's take a look at some garage design ideas that will help you stay organized as you lay out your new two-car garage.
Garage Shelving
Adding shelves to your garage removes clutter from the ground and provides easy access to your things. We offer shelving as an option with all of our storage buildings, and we can also install a workbench to store the tools you use most often. There are also some other great shelving options that you can purchase online or at hardware stores.
Peg Boards
Peg boards are a great way to keep all of your tools accessible and organized. Gone are the days of rooting through toolboxes and bins to find the right tool for the job! We offer pegboards as an add-on to all of our structures, and many of our garage customers have loved the organization and aesthetic they bring.
The Double Wide Garage
As the name suggests, our Double Wide Garages offer double the space of a standard garage, and have become a very popular option with our customers. The extra space allows you to get creative with the floorplan, and store multiple cars and recreational vehicles comfortably. We have even seen customers utilize half of the garage as a workshop and the other half as storage.
Are you ready to add a 2-car garage to your property? Contact us today for a complimentary quote!