Submitted by

SchwebAdmin

on Fri, 05/26/2023 - 10:27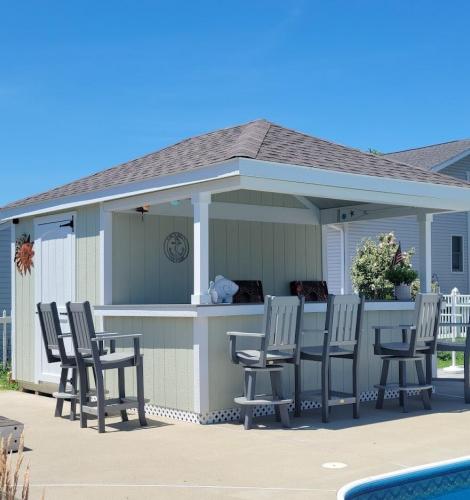 With the return of warm weather and long summer days, backyard pools and pool houses are being reopened all over the East Coast. Keeping your pool house organized can seem difficult when you don't know where to start. Check out the following helpful tips to get the most out of your space this year.
Choose Your Pool House's Purpose
Pool houses can be used for many different things like bathrooms, changing rooms, snack stands, pool storage, extra seating, and more. Knowing how you plan to use your pool house will help you organize it better. For example, a pool house used as an outdoor bathroom and changing room will be organized differently than a pool house strictly used for pool toys, inflatables, equipment, and supplies.
If you want to use your pool house for storage and as a functional space, you can create a custom building that is divided into 2 rooms with separate entrances. Here you can keep pool equipment, inflatables, and other pool accessories while using the existing space as a changing room, bathroom, or another type of room.
Use Vertical Storage Space
Opt for vertical storage in your pool house to maximize your space. When you choose vertical storage options, you're saving floor space for your family and guests to move around or store bigger items that cannot be hung up or placed on a shelf.
Shelves & Cabinets
By installing shelves and tall cabinets you can use your pool house's interior height and get more storage space. Over-the-toilet shelves and cabinets are great ways to store extra bathroom supplies like toilet paper rolls, hygiene products, and hand soap refills. If you want to decorate your pool house while still saving space, add wall-mounted or floating shelves for decorative items. Additionally, you can personalize your pool house by painting the interior, adding a waterproof rug, choosing colorful towels, hanging artwork, and including a decorative mirror.
Shelves and cabinets, like corner cabinets, are perfect for storing towels, sunscreen, aloe, a first-aid kit, bug repellent, sunglasses, and all your poolside essentials. It's also good to have plastic bags for guests, a trash can with a lid, and a plastic laundry basket for wet towels and swimsuits. Just make sure any wet suits or towels are always taken inside to be washed so they don't grow mildew or attract insects.
Hooks & Towel Racks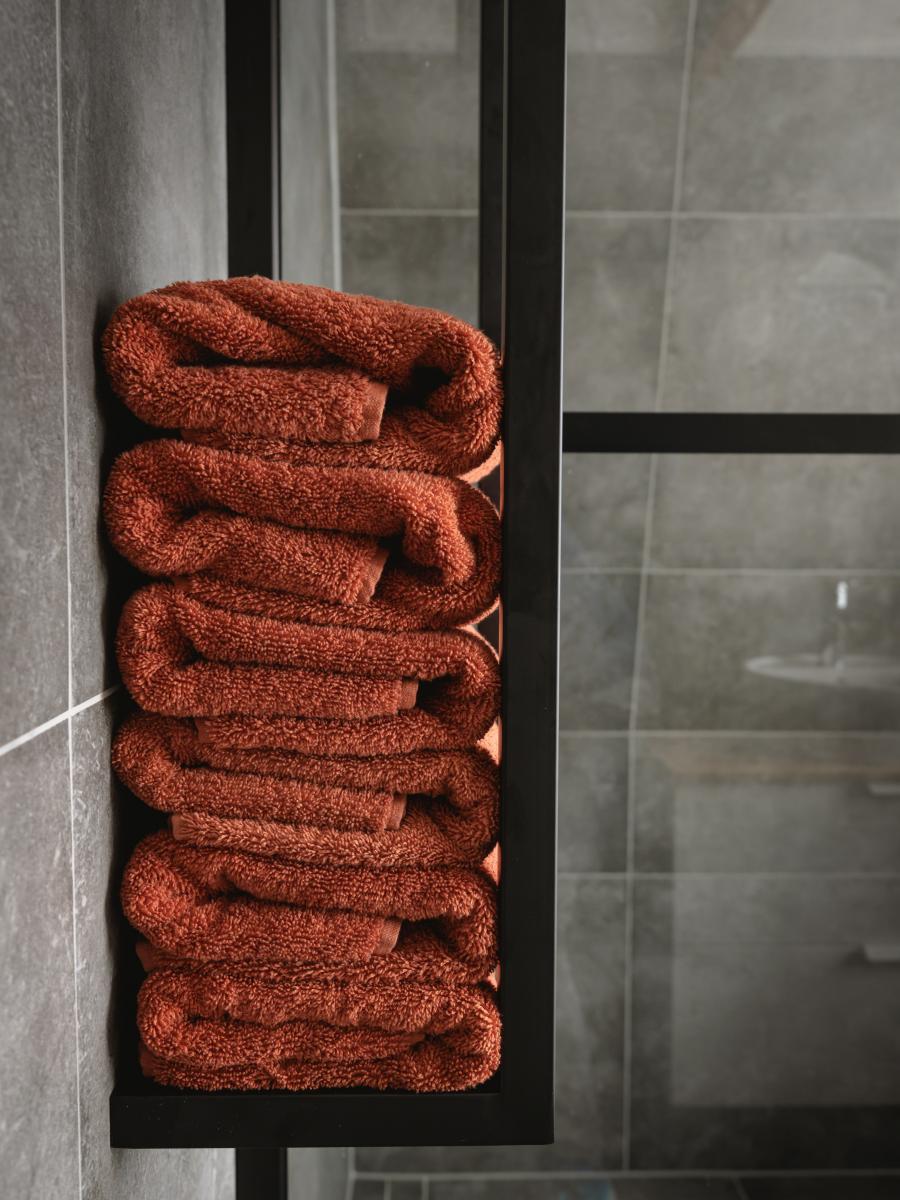 Hooks and towel racks are essential pool house accessories to hang clothes and towels to dry. They're also great for keeping clothes and other items off the floor when guests are changing. Hooks and racks take up little space but make a huge difference by letting items dry out of the way. Additionally, if you have limited space to store towels, use a wall-mounted wine rack to hold clean, rolled-up towels. Using a wine rack for towel storage gives you more shelf and cabinet space while making towels easy to grab.
Hooks aren't just for interior storage. You can also install hooks on the pool house exterior for extra convenience. Hang damp towels in the sun to dry faster or place pool inflatables for quick access. Just make sure inflatables are stored away properly when the pool isn't being used so they don't blow away or get damaged.
Sports Equipment Organizer
A sports equipment organizer is a great way to store pool supplies and toys. These organizers can hold a lot of equipment and usually have multiple compartments for a ton of items. Many equipment organizers have tall, upright sections that work well for organizing pool noodles. Storing your pool noodles vertically prevents snakes and other pests from crawling inside them.
Let your pool supplies and toys completely dry before storing them in an organizer to avoid rusting, mold, mildew, pests, and damage to stored items. Choosing an organizer that's made of mesh or plastic with holes will promote better airflow, keeping away trapped moisture and mildew.
Store Food & Drink in Your Pool House
When you store snacks and drinks in your pool house, you'll keep your home interior cleaner with fewer people going in and out. Any time someone wants to grab something to eat or get a cold drink, they can get it quickly without bringing water, mud, and grass into your home. If you use your pool house for entertaining, use airtight containers to store packaged snacks to keep pests from getting into them. Installing a mini or full-size fridge in your pool house is perfect for keeping cold drinks and ice cream treats in stock. You'll also want to have extra paper towels, utensils, and dishes available for use.
Pool houses with bar counters transform your pool house into a place that does more than just store food and drink. Add some bar-height poly chairs to create extra seating for dining, relaxing, and refueling. When having guests over or spending a day by the pool, you can keep the bar stacked with food and drinks such as veggie platters, fruit salad, popcorn, granola bars, and other great pool snacks.
Use Weatherproof Outdoor Storage
All of your pool equipment and inflatables may not fit in your pool shed. Similarly, your kids may want easier access to pool toys and their favorite pool floats. For these bigger and frequently used items, a deck storage box will free up space in your pool house and keep your items safe from bad weather.
Outdoor storage benches are also fantastic for storing pool toys. With these benches, you get easy storage and functionality with additional seating. These benches are great for families as they're easily accessible to kids. However, these storage benches should be routinely cleaned to avoid issues with insects, dirt, and mildew.
Choose Waterproof Storage Bins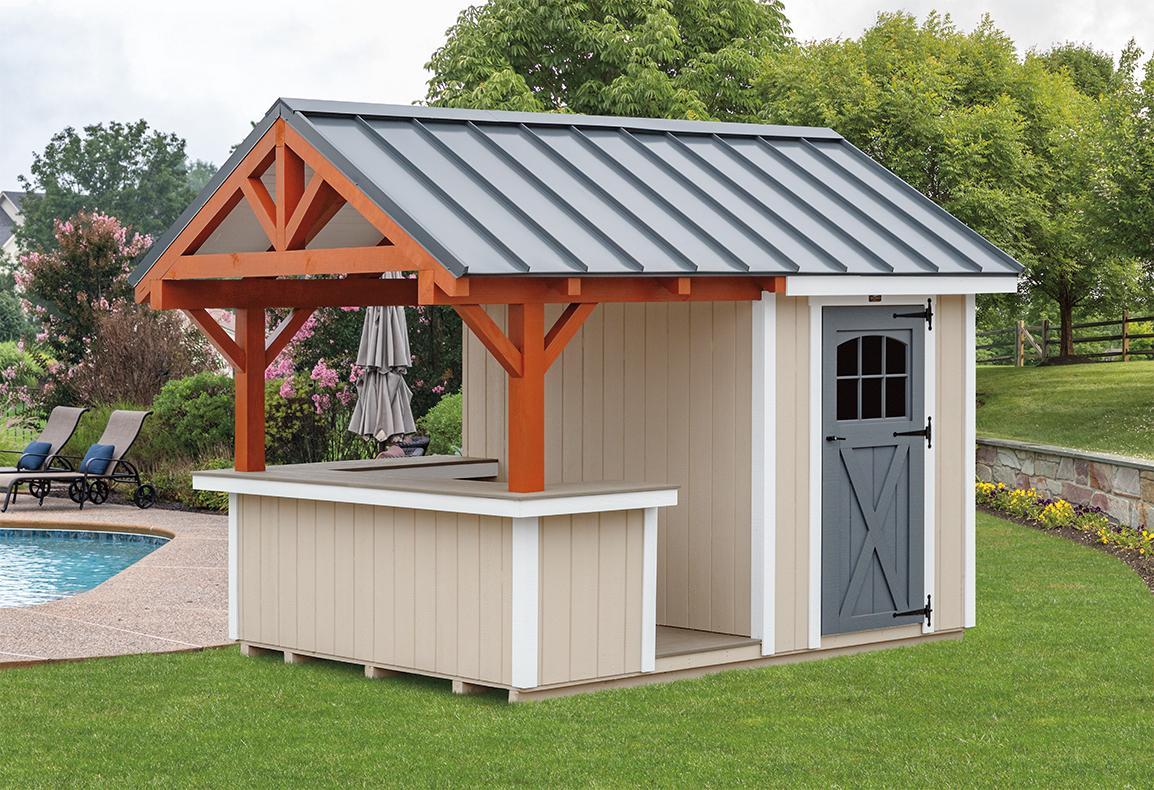 When storing pool toys and supplies, avoid any storage material that will get ruined when wet, such as cardboard boxes or cloth cube bins. Plastic bins, airtight containers, vacuum-sealed bags, and laundry baskets are great ways to store pool items.
Using clear bins or adding labels to bin exteriors will help you keep track of stored items for quick access and inventory. Likewise, keep items your kids use on a lower shelf that's easier for them to access. This prevents your kids from trying to get an item out of their reach and getting hurt in the process.
Store Pool Chemicals Separately
If you use your pool house for anything other than pool storage, you shouldn't keep your pool chemicals inside. Pool chemicals need to be stored in a location that can be closed and locked so children and animals aren't able to get into them. These chemicals need to be placed in a spot that is sturdy and off the ground where they won't fall over.
Adding a pool house to your backyard can do so much more than just store your pool equipment. At Space Makers, you can get prebuilt and custom pool houses with plumbing and electricity. Our pool houses can be matched to other buildings and fully customized to include any features you may want or need. Ready to create your own pool house or cabana getaway? Contact Space Makers to get started and request a free estimate.