Submitted by

SchwebAdmin

on Wed, 01/18/2023 - 15:07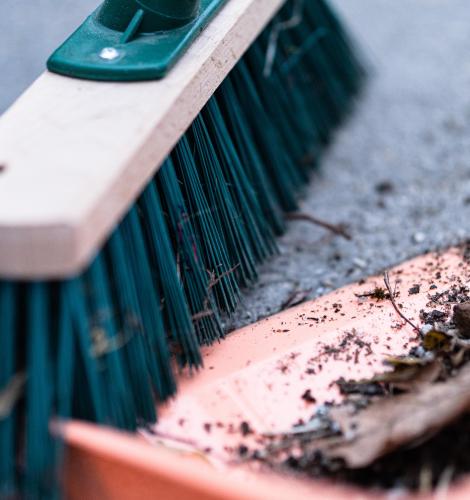 You love your shed and the extra storage space it gives you. Unfortunately, many pests also like your shed and will try to live in it. To keep your stored items in great condition and prevent pest infestations from creating extra stress and expenses, check out our top tips for keeping pests away from your storage shed. You can also use these tips for your home and other outdoor structures!
Store Items in Containers
Air-tight plastic storage containers are ideal for keeping your storage clean, pest-free, and protected. It's important that you avoid storing items in cardboard boxes as this material can attract mice. Be aware that paper items like newspapers and books are often used by mice to create their nests. If you are storing paper items, they should be kept in containers that mice cannot get into or eat through.
If you use your shed to store gardening materials, it's especially crucial that you keep seeds and potting soil in sealed containers. While seeds are a source of food for pests, potting soil is the perfect breeding ground for gnats and other insects. To avoid a gnat infestation in your shed, keep potting soil properly packed away.
Clean Your Shed & Equipment
The frequency of cleaning your shed interior and equipment will depend on what you store inside your shed. For example, a shed used for lawn care and gardening will need to be cleaned out more than a shed used to store seasonal decorations and excess home storage. If you keep tools in your shed or use it as a workshop, always take a few extra minutes to clean your tools and remove any dirt or grime that has accumulated on them as this can be a magnet for insects. You can reduce the risk of a bug infestation by keeping tools and equipment in your shed clean.
You also want to keep your shed floor free of debris and dirt by sweeping out your shed regularly. To speed up this chore, you can use a leaf blower to blow away any leaves, dirt, and other natural debris. Keeping your shed free of trash and scraps includes storing your garbage cans outside and away from your shed. While it makes sense that garbage cans shouldn't be stored inside your shed, you may also find you don't want to place them directly against your shed. Trash attracts pests so keeping your garbage cans away from your shed will in turn do the same for pests.
Clear the Area Surrounding Your Shed
Prevent pests from going near your shed by keeping the surrounding area clear. When you keep the area around your shed clean and free of debris, you'll help deter pests from being drawn to your shed. For example, cut down branches that are touching your shed so squirrels will be less likely to make a home in your shed. You'll also want to keep the grass and brush around your shed neatly trimmed and avoid storing firewood along the side of your shed.
Additionally, you'll need to clear your shed's exterior of any fallen leaves during the colder months. Letting piles of leaves gather around the base of your shed can create an ideal nesting place for pests. By keeping this area free of natural debris and external storage, you won't be attracting pests to take shelter in or under your shed.
Use Repellents
There are many natural repellents that are chemical-free and keep pests out of your shed. Eucalyptus and peppermint work well for repelling spiders and mice. However, be aware that if pests are already in your shed, putting eucalyptus or peppermint at your shed door or opening will keep them from leaving through that spot. Although most animals will avoid things that are toxic to them, pet owners should keep in mind that eucalyptus and essential oils can be toxic to pets.
Likewise, both lavender and lemon scents individually work as deterrents to mice, rats, and spiders. You can mix these essential oils with water in a spray bottle or dampen cotton balls with the mixture and spread them throughout your shed. Another easy way to keep mice, rats, and spiders away is to apply vinegar every 4 or 5 days to your shed's corners and around the windows. If you have a light outside your shed you could be attracting spiders looking to feed on bugs drawn to the light. You can keep insects and spiders away by putting mothballs around the inside of your shed's interior and door.
Check out Space Makers' blog for more tips and tricks on organizing and protecting your storage. Plus, find the shed that is perfect for you by browsing our variety of storage sheds in all different styles, colors, price ranges, and sizes.