Submitted by

SchwebAdmin

on Fri, 04/08/2022 - 13:07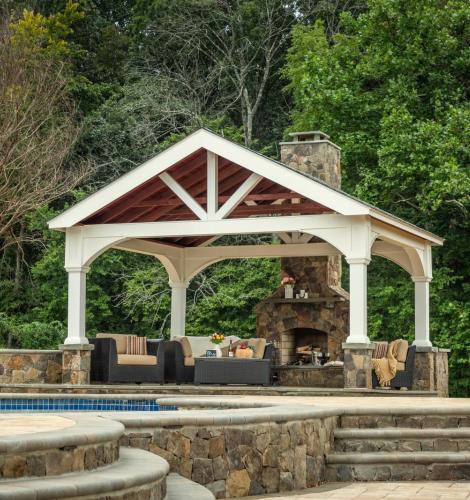 Wintery, cold weather is fading and new glimpses of late sunsets, warm weather, and sunny days have arrived. The time for outdoor living and entertaining is back and you may have been wondering how to spruce up your backyard along with your spring cleaning. You may have thought about adding an outdoor structure to your yard but with so many options how can you choose which one is right for you? Pergolas, pavilions, and gazebos are great choices for enhancing your backyard as they are all visually appealing and add value to your home.
Pergolas
Style & Size
Pergolas are known for being beautiful structures that fit well with their surroundings. They are square, generally stand on 4 posts, don't have a floor, are open on all sides, and have a lattice roof. These structures have a natural look that can stand alone or be added on to other outdoor buildings. For example, you can attach a pergola to your house and have it standing on your patio or deck. Additionally, these structures have been used by homeowners looking to fill spots between buildings and outdoor spaces, creating a walkway that attaches both areas.
When it comes to size, pergolas can fit several people under them but are much smaller than pavilions. Pergolas are an ideal choice for people with a smaller backyard because of their size and versatility.
Climate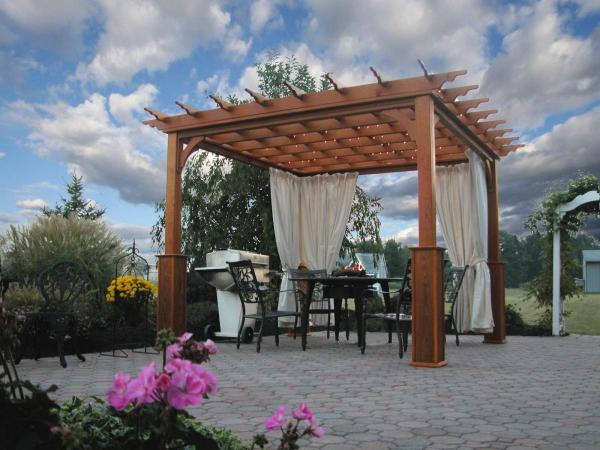 These structures are ideal for drier climates as they do not provide much shelter from bad weather. They can offer shade, but without a cover, there is no protection from rain and snow. If you enjoy sitting in the sun and live in a place with little rain, a pergola would be your perfect match.
Pergolas also work well for locations that get a lot of wind and hurricanes because they are open and make it possible for the wind to move through. Of course, bolting down the structure will additionally be needed for enduring high winds.
Budget & Building
When comparing the prices of pergolas, pavilions, and gazebos, pergolas are the most affordable option and can be made from wood or vinyl. If you have a tighter budget, a pergola may be the way to go.
Extra Features
Plant lovers and gardeners will love owning a pergola. These structures are often used to hang or grow plants like ivy and provide a base for a vertical garden. This creates both a beautiful appearance and can provide further shelter inside the pergola. Additionally, you can add covers to your pergola to make up for the open sides and roof. Our pavilions come with upgradable privacy wall and roof options so you can enjoy your pergola in any weather.
Pavilions
Style & Size
Pavilions are usually rectangular or square, cover a large area, and blend well with their environment. They are frequently used in backyards to act as shelter and shade. When compared to gazebos and pergolas, pavilions exist mostly for their functionality; however, pavilions can still be unique and quite beautiful.
Like pergolas, pavilions are completely open on all sides and have no floor, but they have a solid roof like gazebos. While gazebos have a more dramatic look, pavilions are great for backyard entertaining and activities since there is nothing to get in the way of people socializing and interacting.
Pavilions are large and therefore more ideal for bigger backyards. Coming in different sizes, pavilions generally are big enough to house events and groups of people, sometimes even being used as a carport to park vehicles underneath.
Climate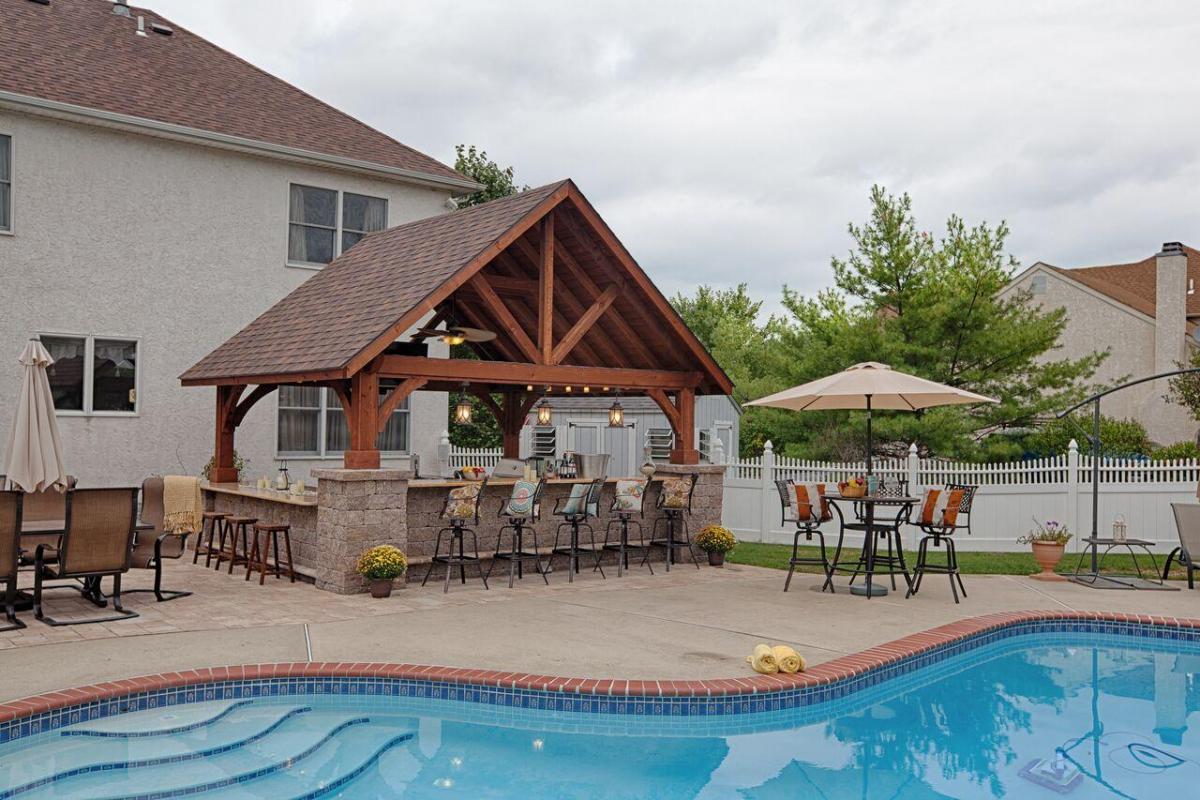 Pavilions are better suited for rainy locations than pergolas are. These structures have open sides which can still let in rain and wind but the roof completely covers the top. They are large so they're able to shelter many people and objects but are less shielding than gazebos. If you're looking for something more open that will still protect you from the rain and sun, a pavilion has just what you need.
Budget & Building
While these structures are usually built out of hardwood, pavilions can also be built with vinyl. Because they are larger, pavilions usually cost more than pergolas and gazebos but it all depends on the size you choose. For example, a 10x12 A-Frame Wood Pavilion costs around the same as a 10x14 Oval Wood Gazebo while an 8x12 Oval Wood Gazebo would cost significantly less.
Extra Features
Pavilions give owners the option of being able to house outdoor furniture, tables, chairs, a fireplace, light fixtures, fans, and even an outdoor kitchen! If you like the idea of being able to spend a lot of your time outdoors, a pavilion is a great choice as it's open, customizable, and provides shelter.
Gazebos
Style & Size
Gazebos are usually an octagon or hexagon shape and have a classic, whimsical look with a complete roof. In contrast to pergolas and pavilions, gazebos have partial sides that aren't completely open. They also have a raised floor with rails around the sides and some even have seating already built into their structure. While pavilions and pergolas work best when added to an existing structure or patio, gazebos are built and styled to be standalone. Their size is customizable to your needs but gazebos tend to be roomier than pergolas and pavilions due to their partially or fully closed walls.
Climate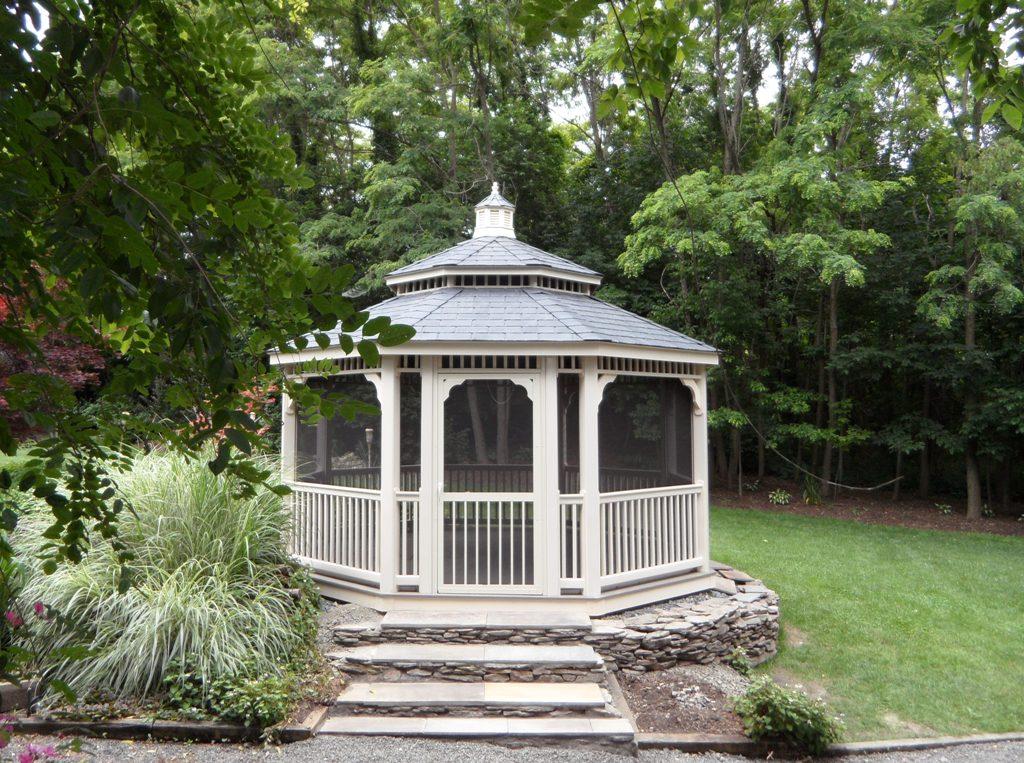 If you're looking for an outdoor structure that provides protection from rain, sun, and snow then a gazebo is what you are looking for. These structures are perfect for people who live in rainy locations and their roofs are built to create a runoff for rain and snow. Additionally, if you have a nice view you want to sit and enjoy, a gazebo is a great choice with its solid roof for shade and protection, a raised floor, and partially open walls that let you see your surroundings and feel a breeze.
Budget & Building
Gazebos have double the amount of materials used when compared to pergolas and take longer to build, making them more expensive. Different materials can go into the process of building a gazebo. Some of these materials that can be used include hardwood, vinyl, stone, and canvas. These structures usually require a foundation, but some gazebos are able to be moved as opposed to being permanent.
Extra Features
If you're looking for an outdoor structure that provides privacy and keeps bugs out, gazebos are the way to go. They can even be used as an office because of their privacy, protection from the weather, and ability to have closed or netted sides. Because of this, you can also run electricity to gazebos, which creates more possibilities for their use.
Ultimately, if you don't have any size or budget requirements, your choice may come down to what style and look you like the best. Space Makers Sheds offers many options to help you customize your pergola, pavilion, or gazebo to what you have in mind for your backyard. Contact us today to get a free quote and learn more about how we can help you make your backyard vision a reality!