Submitted by

SchwebAdmin

on Fri, 11/29/2019 - 16:32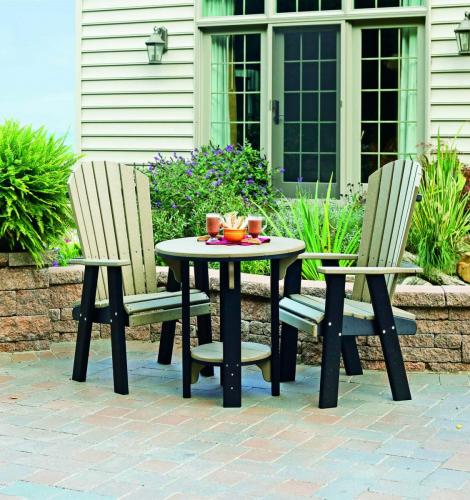 While poly lumber furniture costs a bit more than big box store products, its durability and versatility make it a worthwhile investment. Not only is it available in gorgeous colors and versatile designs, poly furniture will last you for years and years. Keep reading for some more information on the benefits of poly furniture, along with a few drawbacks. 
What is Poly Lumber? 
High-density polyethylene (HDPE) or polyethylene high-density (PEHD) is a thermoplastic polymer made from petroleum. Poly lumber products are manufactured from HDPE, a UV-inhibiting pigment, foaming compounds, and additives. 
Labeled with the recycling number '2', HDPE is one of the most versatile plastics since it's easy to repurpose into new products due to a high strength-to-density ratio. It does not attract insects, termites, or rodents, and it does not absorb moisture.
Environmental Benefits
If purchasing environmentally-friendly products is important to you, the benefit of poly lumber is in the high level of recycled materials contained in the formula. Raw HDPE material is derived from post-consumer waste such as milk, detergent, shampoo and bleach bottles, cutting boards, pipes, cereal box liners, grocery bags, and other post-industrial material. 
So, poly lumber is largely made from recycled materials. Reusing HDPE is better than disposing of plastics in a landfill where it can leach into the soil. It can be designed with wood color and texture without sacrificing any trees. 
Poly lumber is extremely durable and weather-resistant, making it one of the longest-lasting products on the market. You won't be applying insect or moisture barriers to this furniture, lowering your family's exposure to additional chemicals over the years. 
Design Benefits
Color retention is high in this product. HDPE is fairly opaque, which means it can be infused with both vibrant and natural colors. UV stabilizers are infused in the process so colors won't fade. Colors are distributed from the core to the surface, so scratches or dings in the furniture will be much less noticeable. Poly lumber can also be molded into any shape to fit the style of consumers. Both traditional and modern styles are easily designed in poly lumber. Embossed surfaces can produce an authentic wood texture. 
Maintenance Benefits
Poly lumber is virtually maintenance-free and does not rot, rust, splinter, crack, or wear down. It withstands high and low temperatures without breakdown, making it a great outdoor furniture choice for any climate.
Poly furniture is also resistant to sun, rain, sleet, snow, wind, saltwater, chlorine, and mildew. It is not affected by salt sprays, fuels, or oils. It's resistant to many different solvents, but easily cleaned with soap and water. Power washers are safe to use on poly lumber under 1,500 psi (the equivalent of a car wash). However, you may need a soft bristle brush to get into the seams and surface texture.
Painting poly furniture isn't necessary, and it can be left outside in harsh climates without fading or chipping. In fact, no sanding, stripping, coating, staining, or waterproofing is needed for the life of the product. Selecting strong and stable construction with thick 1.5" x 3.5" legs will be enough to avoid warping over time. Make sure it's built with stainless steel corrosion-resistant fasteners and your furniture will last for years.
Cons of Poly Lumber
Due to its high strength-to-density ratio, poly lumber furniture is more expensive than other plastics and is also very heavy. Have you ever come home to find your patio furniture blowing through the neighborhood? That won't happen with a quality poly lumber—it is heavy. It's not an exaggeration to say that it may require two people to move a chaise lounge across the yard. 
Select a seat design that's comfortable for your body. Because HDPE is so rigid, chairs will not conform to the shape of your body over time. Additionally, dark colors may retain more heat than a lighter color. Always be careful when sitting on a poly chair that is exposed to the sun. Chairs may need to be covered with a towel first.
On the market for some poly furniture? Check out our selection!