Submitted by

SchwebAdmin

on Wed, 09/08/2021 - 13:16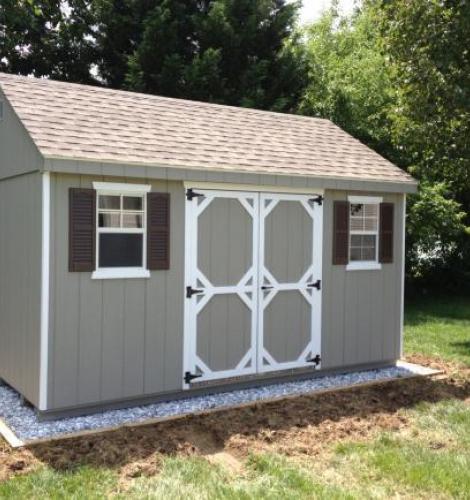 Having a garden shed to store all of your outdoor equipment can be a lifesaver, but can quickly turn into a disorganized mess if you aren't proactive about organization. For over 15 years, Space Makers Sheds has been offering garden shed organization ideas so that customers get the most out of their new storage building. In this blog we have outlined some quick and easy ways to keep your storage building organized so that your shed relieves the stress of sorting through piles of lawn and garden equipment. 
Shelving
Adding shelves to your backyard storage shed allows for more organizational space and less clutter while keeping things off of the floor. All of our storage sheds offer shelving options as an upgrade. You may also choose some movable shelving options available at your local hardware store. We highly recommend assigning each item in your shed a specific place on the shelves and sticking to it, that way you always know where to find your tools when the time comes. 
Peg Board and Wall Panels
We also offer peg board and wall panel options that help organize your smaller tools and equipment. Small metal hangers fasten onto the peg board and allow you to hang your tools so they are always within arms reach. You can also use screw organizers that hang from the pegboard, keeping all screw and nail sizes organized and easy to access. 
Garden Tool Organizers
Are you tired of pushing through a sea of rakes, shovels, brooms, and other gardening tools as you make your way through your garden shed? A garden tool organizer is an excellent way to store all of your tools without taking up a lot of real estate in your shed. These organizers can often be mounted to the wall and your rakes, shovels, and other garden tools hang there until they are ready to be used.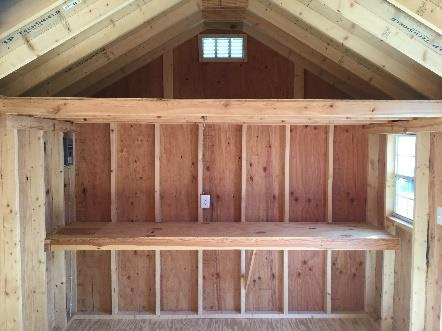 Shed Loft
Another storage option we offer our customers is the shed loft, a small storage area that allows you to store items that aren't used frequently out of the way. The loft is a great place to store seasonal items while you're not using them, and many of our customers rotate these items out in summer and winter. You can also hang hooks underneath the loft to store regularly used tools. 
Storing and Organizing Your Lawn Chemicals
Having a place separate from your home to store lawn chemicals and treatments is a huge benefit of having a garden storage shed, but how do you store them neatly and safely? As your yard needs change, the number of chemicals and treatments you are storing in your shed can quickly grow. We have provided a quick chemical storage guide to keep your shed organized and safe.
Always keep your lawn chemicals in their original containers. Some chemicals can be corrosive, and their original containers were designed to keep these chemicals safe within. 
Always store toxic chemicals on a shelf out of childrens' reach. The EPA has a safe storage guide you can reference so you can avoid your children getting their hands on toxic chemicals. 
When storing chemicals in your garden storage shed we recommend using plastic, metal, or another non-porous material as shelving. In the event of a spill it is important that your shelves can hold up to corrosion, and won't hold onto the harmful chemicals even after cleanup. Home Depot has some great options on their website that we recommend. 
Movable Garden Cart
Another great option for keeping your garden tools organized and accessible is a movable garden cart. These carts come with rough terrain wheels and tons of storage so all of your necessary tools are right at your fingertips wherever you are working. Amazon has some great options, as do Home Depot, Lowes, and your local hardware store. These carts are durable and allow you to have your tools close by as you move through your garden maintenance tasks. Many models even fold up so they take up less real estate in your garden shed. 
All of Space Makers' garden storage sheds are available with a ramp, making garden carts a breeze to get in and out of the shed. 
Labelmakers
When it comes to organizing, labelmakers are a lifesaver when you are trying to keep your garden shed tidy. Keeping your bins, shelves, and peg boards labeled ensures you keep things in the same place every time, making it simple to find the tools you are looking for when the time comes. This is especially helpful if your kids are getting involved in the yard work; they know where to find things and where to put them back!
We work with our customers to design the garden shed of their dreams. Contact us today to learn how we can help you with your storage needs!