Submitted by

SchwebAdmin

on Wed, 06/09/2021 - 14:33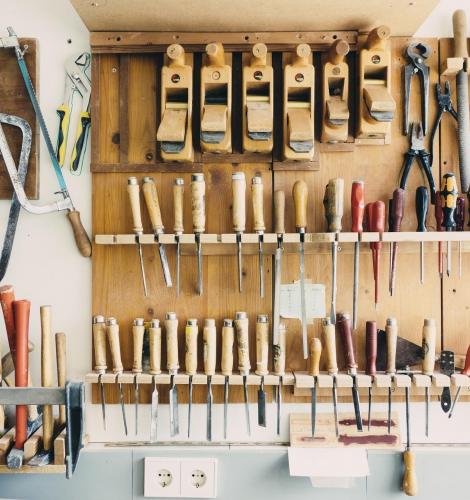 If looming, lazy summer days have you dreaming of solutions for storing pool gear, sports equipment, or yard care tools, you're not alone! 
Rely on our tips and tricks below to understand how you can make the most of even the tiniest garage this season. 
Summer is Upon Us: Is Your Storage Game On Point?
The same way you would for your house, your first action before implementing the steps below is to understand the goal you have for garage storage. Do you want a place to organize your sports equipment during the season, so it is easily accessible but also out of the way (and house)? 
Or, would you prefer to have a place where you can organize your entire toolkit, or display and work on model cars? Depending upon your answers, you will want to combine or leave out some of the recommendations below. 
Our Top Garage Organization Ideas for Small Spaces
Take advantage of every inch; including corners - in addition to the typical cabinet installations, you might underestimate the amount of room hiding in your garage's corners. Be sure to install rounded shelves here, which is perfect for small items.
Create space where there was none with overhead storage - why not expand your efforts to the area over entryways and windows? Line these spaces with lightweight shelving kits or simple plywood constructions.
Monkey bars aren't just for the playground - they're actually the perfect solution for storing jackets, sports equipment or gear, and anything else that you otherwise want to keep out of the house.
Bring out your inner storage warrior with a gladiator rack - these involve simple install and slide technology, which helps keep everything secured and in place.
Take a note from your high school locker - use dedicated cubbies or old school storage units to create unique areas you can organize by sport.
Additional Garage Storage Solutions to Consider
You can combine the tips above, with those below to enhance your storage space despite having limited garage square footage. 
Certain types of furniture can be added, for example, to help you carve out sections of even the most petite spaces that can serve as makeshift office or hobby "nooks". 
Small Storage Upgrades: Tiny Solutions, Big Difference
Magnetic boards - suitable for any hobby, sport, work or tool, magnetic boards are a fun way to add a unique look to your garage while maximizing your ability to keep small or themed items together. 
Folding workbenches - add comfort to an office or work area while conserving space day-to-day with a folding workbench. This can also be stored when folded on hooks, shelves or door hangers. 
Chalkboard paint - a great way to get the kids involved, or learn organizational skills early, is using chalkboard paint to make calendars, lists or keep track of inventory items. You can easily turn any wall, door, or surface into a chalkboard with a stroke of a brush.
Hooks are your friend - despite your need to get clothing, equipment, musical instruments, or yard tools out of the way, hooks are a quick and affordable method to increase garage storage space. 
Thick storage bins that are non-see through - use this simple trick to keep unsightly or disorganized items out of plain sight. You can combine this system with others, such as wall storage units and shelving, to keep your messes tidy. 
Interested in Letting Us Design the Perfect Garage for Your Storage Needs? Get in Touch.
We aren't just known for our storage sheds, afterall. Browse our single car, two-car and two-story units, or email us to request a design specific for your requirements.  
Our garages come standard with 12-inch on center floor joists for extra strength. You can choose from door options that include or exclude glass, and incorporate shutters with your window selections. 
We'd be pleased to provide you with testimonials from our previous clients, as necessary.