Submitted by

SchwebAdmin

on Tue, 10/19/2021 - 16:40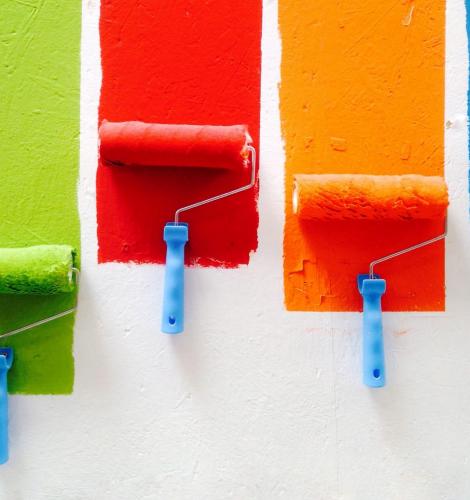 You may not put much thought into choosing the color of your new shed, but it's an important decision! Your shed will be a permanent part of your backyard, so it's a good idea to choose a color that not only suits your personal taste, but also complements the rest of your property and your home. Here are a few things to consider when choosing a color for your new shed.
Shed Paint Color Ideas
When it comes to choosing a color for your new shed, there is no one-size-fits-all solution. That's why it is important to consider all of your options so you can make the best choice. At Space Maker Sheds, you have the opportunity to match custom colors in addition to popular standard colors.
Neutral Colors
A neutral color palette is the way to go if you'd prefer that your shed fit in with its surroundings rather than act as the focal point of your backyard. Gray, soft green, and light blue, all of which can be found in nature, are great color choices if you want your shed to blend in with your landscaping and greenery and not stand out too much. 
Bold Colors
If you like bright colors and want your shed to stand out, a bolder color may be the way to go. Choosing a paint color that goes well with some colorful blooms in your yard is a great approach if you're leaning towards a bright color for your shed.
Accent Colors
Many homeowners choose one color for their patio furniture, outdoor cushions, and other items in their yard to act as an accent color. You can choose to paint your shed this color, too, as a way to tie various parts of your yard together.
Shed Color Schemes and Tips
When choosing a paint color for your shed, it's a good idea to pick a major base color for the siding and a complimentary color for accent areas. Choosing a main and accent color for your shed is an excellent way to make the structure look cohesive and well-thought-out.
A popular approach is to choose a lighter, more neutral color for the shed's siding, along with a bolder color for the shed's door, windows, trim, and other accent sections. You could, for example, use Tan as the primary color for your shed and Red as the accent color.
What Color Should I Choose for My Shed?
Ultimately, you want your shed to reflect both your personal style as well as your outdoor surroundings. The first thing to consider is whether or not you want your shed to be the focal point of your yard. Would you prefer a shed that fits in or stands out? If you want it to fit in with your landscape and yard, choose neutral, nature-inspired hues for your shed.
If you're not one to shy away from bright colors, choosing a bold base color and complimentary accent color may be the way to go. Picture a color wheel, and consider picking contrasting colors to make your shed really stand out.
If you're going for a more classic style, matching the colors of your house to the colors of your shed is never a bad option. However, there's nothing wrong with choosing a color that doesn't match either! Just make sure to pick a color scheme you like and don't see yourself getting tired of.
Use Our 3D Shed Builder to Plan Your Color Scheme!
If you're struggling to visualize which color scheme would look best for your new shed, try using Space Makers' 3D shed building tool to experiment with different color combinations, styles, and more! Even better, once you've customized your shed to your liking, you can submit it for a quote directly from the building tool. Give it a try today!