Submitted by

SchwebAdmin

on Thu, 08/25/2022 - 11:42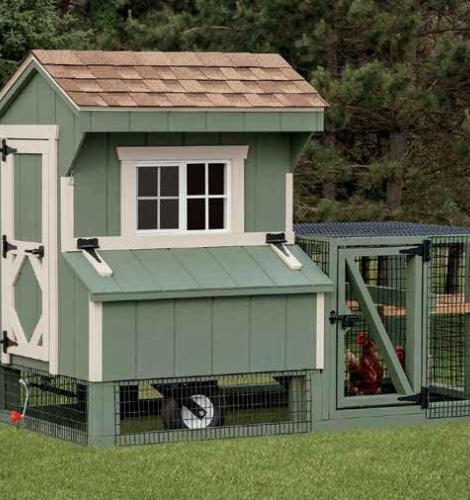 You may find that your chicken coop needs vary depending on what climate you live in, the types of animal predators in your area, the amount of space you have, the number of chickens you own, the reason you have chickens, and your own personal preferences. Read on to discover what type of coop is best for you and your chickens.
Roaming
A closed-in outdoor space for your chickens gives them the ability to safely roam outdoors while coming and going as they please. Having a chicken coop that comes with a fenced-in outdoor space means you can let your chickens outside without the looming threat of predators or wandering chickens.
Mobility
Having the ability to move your chicken coop is beneficial for you, your chickens, and your lawn. These convenient chicken coops have wheels and sometimes go by the name "tractor coops." With moveable chicken coops, you can relocate your chickens to a fresh spot of land when their run area has become dug up and overused. Transporting the coop to a fresh patch of lawn helps keep your chickens enriched and your lawn in better shape.
Accessibility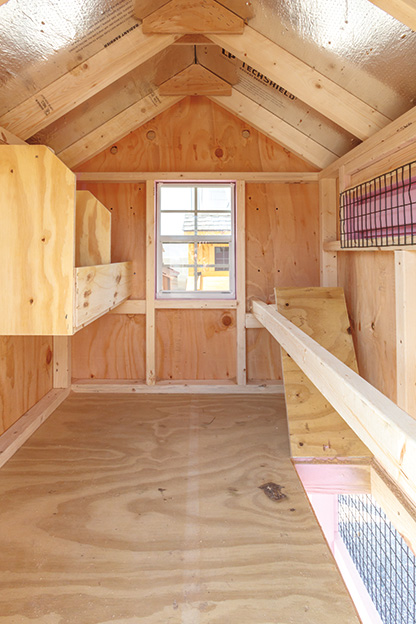 If you are raising chickens to lay eggs, you need to get a chicken coop that has nesting boxes. Having a coop makes accessing your chickens and their nests much easier as it provides a designated space for hens to lay and keep their eggs. Free-roaming chickens are notorious for laying their eggs in random places. When you own a coop, you won't have to go on a scavenger hunt every time you go out to collect eggs.
Additionally, having a chicken coop helps you keep track of all your chickens and the number of eggs they've laid. You'll quickly know if a chicken has stopped laying eggs or if the amount they are laying decreases. You also won't have to chase chickens down, find where they've wandered off to, or worry that they've gone missing.
Security
Chicken coops provide shelter from the elements and protection from predators such as foxes, raccoons, dogs, and other carnivorous animals. These animals can easily attack and overpower chickens. If you have hens laying eggs, you'll especially want a chicken coop that keeps predators from getting near your chickens and their eggs.
Without a coop, chickens will find a place they deem safe (but may not actually be safe). This can make it difficult to find where they are and make them more vulnerable to being harmed by animals and vehicles. It's good to have a chicken coop with a door that can be closed and fastened shut at night for additional protection.
Ventilation
Choosing a coop with windows, vents, and other forms of ventilation is essential because you need to prevent ammonia fumes from accumulating. Adding exhaust fans is another option that helps keep the air in your chicken coop fresh and healthy to breathe.
Size
When deciding on a size for your coop, you should have around 3-4 square feet for every chicken. You should also keep this rule in mind when deciding how big the run area should be. Likewise, for chickens laying eggs, you should have 1 nesting box for every 3 hens.
Raised Coops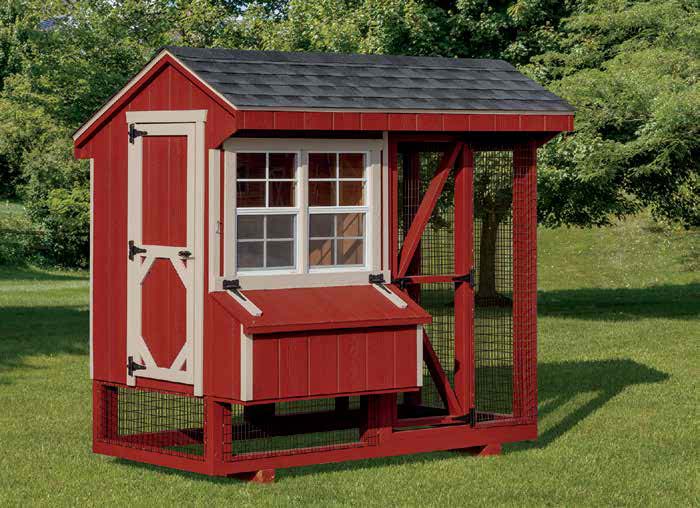 If you're still stuck on the type of chicken coop you should get, check out the benefits of raised coops! Raised coops are easier to access when gathering eggs, you get additional roaming space under the coop, and you don't need to worry about the coop floor becoming moldy and full of mildew.
Built with quality materials for durability and functionality, our 5 types of chicken coops at Space Makers Sheds are fully customizable and can be matched to the style of homes, garages, and storage sheds.
We offer the following options on our chicken coops:
Easy-to-clean epoxy floor
Gable vents
Exhaust fans
Heated roosts
Poly nest boxes
Litter trays
Finished interior
Built-in wheels for easy transportation
Wire over windows for extra protection
Browse our catalog of custom chicken coops or contact us today to speak with one of our building professionals about chicken coops.