Submitted by

SchwebAdmin

on Thu, 02/16/2023 - 10:31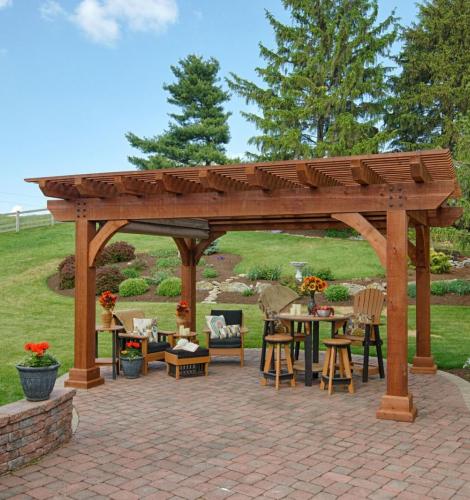 A Pergola is a great addition to any home. These outdoor structures provide plenty of shade so you can relax and entertain outdoors without being directly in the sun. Pergolas come in many different styles and sizes so finding one that will blend with your backyard's style won't be difficult. To help you decide if a pergola is right for your property, we researched the most frequently asked questions regarding pergolas. Read on to learn more about these stylish structures.
Do Pergolas Require a Building Permit?
While pergolas generally will not require a building permit, this depends on where you live. You can check with your state, county, or municipality to find out if you'll need a permit for a pergola. Additionally, if your neighborhood has a Homeowner's Association (HOA) you'll need to make sure you're following your HOA's regulations and approval process if there is one. For example, your HOA may have restrictions on the size of the structure you add to your property. Space Makers' Sheds builds vinyl and wood pergolas of all different sizes so you won't have any trouble finding a pergola that meets the requirements of your HOA or building permit.
Do Pergolas Increase Home Value?
Adding a pergola to your backyard can increase your home's value. That being said, there are a few additional factors that help decide just how big of a difference a pergola will make.
Location
To start, your home's location can make a big difference in the value that's added. For example, if you live in a warmer climate where you can spend more time outdoors throughout the year, a pergola will most likely add more home value than if you live in an area with long, heavy winters. Additionally, homes in locations with plenty of sunny and dry weather are ideal locations for pergolas, making them valued additions. However, don't let where you live stop you from building a pergola. The iconic style of the pergola is still very much present and popular in rainy climates.
Size
A pergola's size can also greatly impact the value it adds to a home. Larger pergolas provide more shade and space to entertain, making them more appealing to homeowners. Basically, as the size of a pergola increases, the home value will increase as well. If increasing your home value is important to you, you'll want to consider building a large pergola.
Can Pergolas Blow Away?
If it's not properly attached to a foundation, a pergola can be tossed around by forceful winds and bad weather. A pergola with no foundation can cause a lot of property damage such as broken fences or damaged house siding. The importance of correctly securing your pergola to its foundation shows why hiring a professional to build and install a pergola is so important. At Space Makers, all of our pergolas are built to be durable and withstand bad weather conditions. We ensure your pergola is fully anchored to keep your family and home safe even in the worst weather conditions.
Can Pergolas Go on Grass?
We do not suggest placing your pergola on grass. As mentioned above, pergolas don't have bases and will need foundations to stay in good shape and be long-lasting. Securing your pergola to a foundation will also keep the structure from being moved and thrown over by strong storms and wind. Plus, with a concrete foundation, you won't need to go through the trouble of digging up your yard to create post holes.
Can I Use a Pergola in the Rain?
While you can use a pergola in the rain, this type of structure does unfortunately have an open roof that will let in rain. However, if you live in an area that gets plenty of rain, you'll be happy to know you can still enjoy your pergola by adding a cover to it. If a cover isn't enough and you'd rather have an outdoor structure with a closed roof, a pavilion or gazebo might be what you're looking for. For more help deciding if a pergola is right for you, check out our guide to pergolas, pavilions, and gazebos to discover which one is right for you.
Will a Pergola Block the Sun and Make My House Dark?
Pergolas don't have to be free-standing and can be attached to your house or other outdoor buildings. Customers usually wonder if connecting a pergola to the side of their houses will make the inside of their homes dark. Because pergolas provide shade, they can reduce the amount of sunlight that enters the side where the pergola is attached. The good news is this will keep your home cooler and your air conditioning bill lower.
If you would prefer that sunlight is not blocked from coming through your windows, you may not want to attach a pergola to your house. While pergolas do have open roofs that let some sunlight in, their purpose is to provide shade. That being said, different pergolas let in different amounts of light. Pergolas with wide roof slats will let in less sunlight while pergolas with narrow roof slats will let in more light. If keeping your home bright and open is a concern, you'll do best choosing a pergola with narrow slats.
Adding a pergola to your backyard, deck, or patio is fast and easy with Space Makers' Sheds. From an initial idea to delivery and installation, we'll work with you every step of the way to ensure your pergola meets all your requirements and wishes. You can start looking for the perfect pergola by browsing our online pergola options, pergola catalog, and current inventory. To learn more about our pergolas, or if you have more questions, you can get in touch with one of our experts by sending us a message!