Submitted by

SchwebAdmin

on Wed, 05/11/2022 - 12:28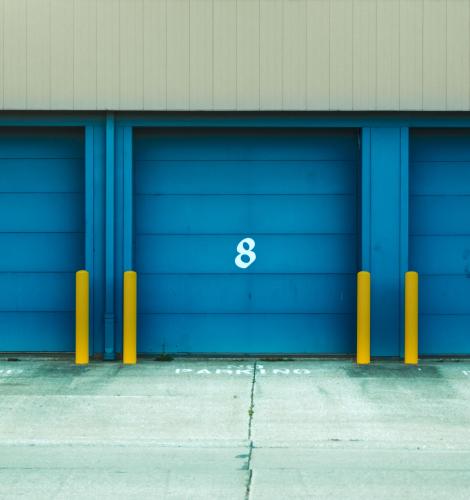 Choosing where to store extra items can be difficult. People usually find themselves trying to decide if a storage shed or self-storage unit would be better. If you find yourself asking this question, we've compiled a list of similarities and differences to help you break down and consider the features that are most important to you.
Cost & Time
When choosing between storage units and storage sheds, your decision may depend solely on what you need to store and how long you'll need to store it. Rental storage units are ideal for individuals relocating and moving who need temporary storage. With a storage shed, you're paying upfront (or rent-to-own) for the shed and its installation. In contrast, storage rentals require monthly payments. Because of this, renting a storage space long-term is not an ideal choice as over time it will cost more than buying a shed. Furthermore, you may not be able to find a self-storage unit within your budget as prices can increase greatly depending on location, availability, and size.
Extra expenses, such as insurance and late fees, can arise when using storage units. With storage sheds, if you have homeowner's insurance, your shed will be covered and you won't have surprise expenses. In fact, owning a storage shed can even increase your home value!
Accessibility
Depending on the items you're looking to store (you probably don't want to have to drive to get your lawnmower every time you have to mow), having a storage shed at your home will make accessing your stored items much easier. Furthermore, using a storage unit can take extra money and time if you need special transportation. Because of the distance, you may need to rent or borrow a vehicle and/or trailer to transport your items to or from your storage unit.
Having a storage shed can help you declutter. The saying "out of sight, out of mind" can also apply to renting a storage unit. Storing your items in a storage unit, especially long-term, can lead you to forget what items you have there since you can't easily walk outside and check.
Not only can distance bring up some issues, but the availability of storage can lead to frustrations as well. For example, some storage units are not open 24/7. If you would like to have access to your items at any time, a storage shed is better at meeting this need.
Security & Climate Control
Storage sheds and self-storage units can both have strong security. Storage units usually have security guards on the premises and have video and door surveillance. Likewise, storage sheds can be made secure, but more work will need to be done to get the same amount of security that storage units tend to have.
If you have special storage requirements regarding climate or light control, rental storage units offer options for this. However, if you like the idea of having accessible storage where you live, you can make your shed climate-controlled.
Maintenance
People considering buying a storage shed should be aware that they will need to maintain their shed's condition. Storage sheds will require routine maintenance like preparation for different weather conditions and seasonal changes. Shed exteriors, interiors, and roofs will need to be frequently inspected, cleaned, and occasionally repaired. However, storage sheds usually have warranties to help with these expenses.
Storage sheds will also need to be checked for pests. Generally, rental storage units take measures to reduce pests, including spraying for insects. If you are especially worried about pest control, rental storage units may be better suited to your concerns and needs.
Versatility
Storage sheds don't just help you stay organized and manage your belongings, they are versatile and can be used as a backyard workspace or getaway. If you get to a point where you no longer need to use your shed for storage, it can be used for other purposes. A rental storage unit will always be a rental storage unit, there is no customization or changing of functionality that can be done.
Ultimately, only you can decide which option is right for you depending on budget, accessibility desires, security needs, length of storage, and space availability. If you find yourself still stuck, contact us to speak with one of our experts or visit our display yard in Bear, Delaware. We'd love to walk you through our many available options and give you a free quote!
Sheds at Space Makers are a great investment that will serve you for years to come. Want to explore different designs and features? Check out our ShedView 3D Configurator!