Submitted by

SchwebAdmin

on Tue, 11/10/2020 - 10:35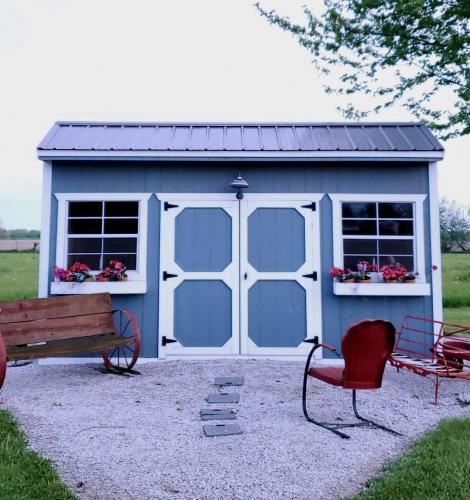 A Shed of Their Own: Building Your Dream She-Escape!
Move over, man caves! The ladies are joining in on the fun by embracing the personal getaway craze with the rise of the new and improved "she shed". Behold, a small but high-quality square foot investment that can instantly transform your property or yard into a mecca for personal rest and relaxation regardless of the time of year or season. These areas are credited with the honing of new hobbies, such as ceramics, painting or writing, as well as being a new favorite way to escape the pressures of work-from-home life on top of day-to-day living stressors. 
Read on to learn more about the tips and tricks you can apply to make sure that your space screams "you" to everyone who enters! You can use your new space as an opportunity to expand your current vibe into the backyard, or create a whole new feel and look to experience something new in a familiar setting. 
What is a She-Shed, Anyway? Understanding the Basics
Prior to the current COVID-19 era, one might not have understood the value that personal space within your home property boundary offers! In fact, having a recreational area that you can use to personalize your relaxation experience is one of the hottest "must have" items of 2020. Why not think about how to deck out your she-shed with a loft to escape in, or a lounge chair to indulge in an afternoon of book reading. You can also refer to your friends for help, and enlist ideas about how they would like to spend an evening in your newest addition! 
To put design tips another way, you wouldn't design a Pinterest or Instagram account without a prevailing theme to build around. Why would you treat your weekday (or weekend!) getaway destination any differently? Only you know which themes make the most sense for your style, preferences, and tastes.
How to Decorate a She-Shed: The Do's and Don'ts
When it comes down to your customized she shed, you should be focusing on making this a place where only your most relaxing, inspiring, and energizing items come to fruition. The entire point of having a she-shed, after all, is so that you can spend the time you have as you see fit. As a result, home office items or dedicated play areas for the kids are off limits! You should think about the pastimes that make you the happiest: reading, writing, drawing, crafting, knitting, or even a high-end coffee or wine bar. Whatever you typically do outside of your home to have fun, are the major places you should turn for some serious interior and exterior inspiration. 
This being said, if you are like most women who share a space with family members, there are likely items you wish to highlight but you have never had a chance or space to do so. This is your chance! Embrace your outdoor expansion by moving in your treasured by underused items, or use it as a space to bring the outdoors inside with repurposing planters. 
Get in Touch Today to Make Your She-Shed Dream a Reality
Regardless of the square footage, siding and hardware options, finishing or staining, we know that your vision is the perfect blueprint for your future she-shed. Why not rely on one of our long-time experts to help you make your dream a reality this season? Before you know it, your backyard will be converted into a getaway -weeknight or weekend!- that you can escape to whenever you desire. Experience the ultimate upgrade that will have your friends, family and neighbors talking!
Reach out to us today to learn more about the steps needed to make your home upgrade come to fruition!