Submitted by

SchwebAdmin

on Fri, 04/23/2021 - 11:35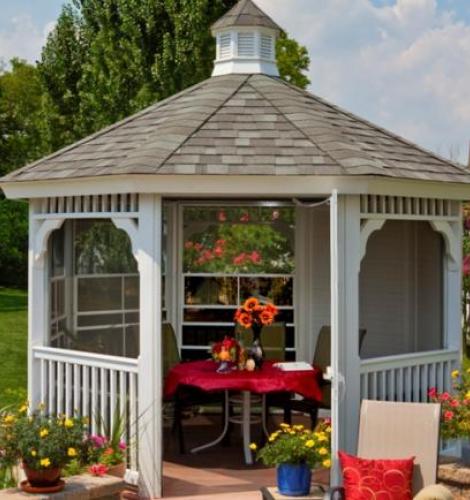 Spring is in the air, summer is around the corner, and homeowners around the country are preparing their yards for barbecues and outdoor get-togethers. Nothing can transform your outdoor living space quite like gazebos and pergolas, and other shade structures which offer a shady spot to gather with friends and family. Gazebos, pergolas, and pavilions, while different, all make a beautiful and shady addition to your backyard. 
At Space Makers we have sizes and styles to fit any space and budget, and we may even have the structure for you in stock. 
The Best Outdoor Gazebos
Space Makers line of outdoor structures features a wide variety of handcrafted gazebos, each with a unique style to fit your needs. 
Octagon Gazebos
Octagon gazebos are what most people picture when they think of gazebos, and for good reason. This classic backyard focal point can be customized with spindles to give it that extra flair, and adding screens provides you and your guests a private refuge from bugs. 
Dodecagon Gazebos
Dodecagon gazebos are an ideal option for larger spaces in need of some serious shade. The symmetrical pattern makes this style perfect as the centerpiece of your yard or event space, and adding a double hip roof adds ventilation and style that will surely have your neighbors talking. The beauty and functionality of this style provide your yard with an elegant, and simple gazebo that is sure to enhance your outdoor space. 
Oval Gazebos
Oval Gazebos are the perfect option for those seeking more seating room for their yard. Sturdy 36 inch rails make the perfect, sturdy spot to place window boxes filled with spring and summer flowers. Half-moon braces and cedar wood shingles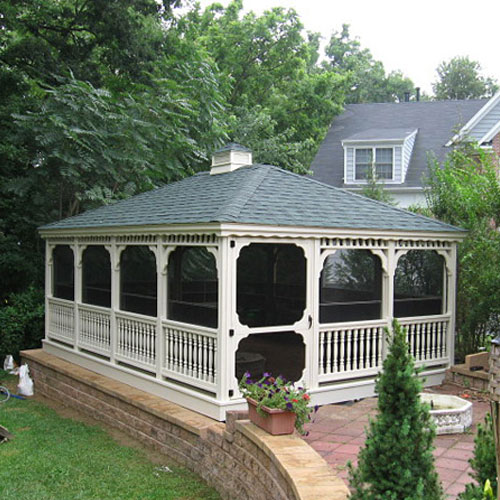 offer your structure strong resistance to wind gusts and sleet. Oval Gazebos are a popular option for pool owners, and can be the perfect finishing touch to offer your guests a shady spot to relax and enjoy a drink after swimming. 
Rectangle Gazebos
Rectangle gazebos are another traditional option that are extremely customizable. Our line features over 24 sizes available in wood or vinyl. Wood gazebos like the one featured to the right, offer a traditional look and can be accented by painted doors. Each of our elegantly designed rectangle gazebos offer clean lines that will perfectly complement your outdoor living space. 
Gazebo Design Ideas
We have lots of options available, so which one is right for you and your space? In a recent blog we provide some design ideas that can help you choose the style that is right for you. Once you have chosen your base design, it's time to decorate! There are some great ideas out there that are sure to take your structure to the next level.
Flower Accents 
Hanging Flower Baskets can be a great color splash that contrasts beautifully with the wood or vinyl. Hang them from the rafters, or outfit beams with flower boxes to beautifully surround the structure in color. 
Lighting
Each of our gazebo styles have the ability to be equipped with overhead or string lighting, making those summer nights even dreamier. 
Gazebo Fan
Adding a fan makes your summer oasis more comfortable, and allows you to further express your style. From more traditional fans, to wood fans with a Caribbean feel, adding the right style can turn your gazebo into a more comfortable, stylish getaway. 
Stylish Pergolas
Pergolas have become a popular option over the last few years, and can provide the perfect shady accent to take your outdoor space to the next level. People are getting creative with how they decorate and arrange their pergolas, and our pergola styles fit perfectly with current trends. 
Traditional Pergolas
Traditional pergolas bring clean lines and elegant style to your outdoor living space. The simplicity of these designs allow you to bring your own style and flair as you decorate with lights, hanging plants, and furniture. 
Kingston Pergolas
Our line of Kingston Pergola are built with hand-selected cedar, and offer up to 18x40 ft. of space for seating. This style is perfect for outdoor kitchens, as showcased in the image to the left, and can be equipped with electricity to accommodate beautiful lighting options. 
Arcadian Pergolas
Arcadian pergolas are a beautiful, high class option that provides the perfect amount of shade for spring and summer lounging. This clean and stylish option mimics the lines of nature, and scalloped runner ends and joists add a decorative and attractive feel to any outdoor space. 
Pergola Design Ideas
Choosing a pergola for your outdoor space gives you the opportunity to customize it with your own style and design ideas. 
Curtains
Adding curtains can make your pergola more private while adding your own flair and style. Curtains can be tied back to open up the space, or closed to provide your friends a private summer seating area.If you haven't budgeted for pergola curtains, here are some DIY ideas! 
Dining Area
There is nothing quite like barbecuing and enjoying a meal on a summer evening. Having a comfortable, stylish outdoor dining area underneath your pergola transforms your yard into the perfect spot for friends and family to gather for a meal. 
String Lights
With the popularization of outdoor dining increasing, we've all probably eaten under carefully strung string lights under the night sky. String lights provide the perfect understated light for eating under the stars, and are a great accent for any pergola style. These lights have become very popular, and there are some great affordable options available. 
Whether you choose a gazebo or pergola, Space Makers is here to help you through the process. Contact us today for a free quote