Submitted by

SchwebAdmin

on Mon, 03/14/2016 - 11:15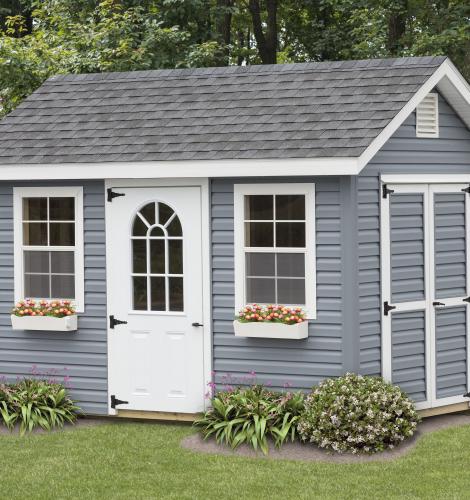 We've been in the shed business for so long that we sometimes forget what it's like when you're getting your very first storage shed. It may seem like a simple procedure but so you can make the most out of your investment, read through Our Beginners' Guide below to make sure you've covered all your bases.
Our Beginner's Storage Shed Buying Guide
Take a few minutes and consider each of the questions we've come up with. By the time you're through, we guarantee you'll have a crystal clear idea of what you're looking for.
Step 1. What will you be using your new structure for?
Basic Storage?
Most of our past customers don't wake up one day and say "Hey! I'm going to get me a storage shed today..." Instead, they first notice they seem to be collecting a bit too much stuff. Their garage may be getting harder and harder to park the car in. They're afraid to open the closet door because all the things crammed in it may landslide out on top of you. Whether it's to clean out the garage or the basement, getting your own storage shed is like getting a brand new room with over 200 square feet overnight.
Lawn and Garden Equipment?
If you're a property owner, you know first hand how much lawn and garden equipment you need to keep your curb appeal fresh. Riding mowers, push mowers, potting soil, rakes, shovels….all that needed equipment takes up space. So rather than trying to squeeze them into your garage, or downstairs in the cellar where it's hard to get to, a Storage Shed positioned just where you want it can make your own landscaping all pleasure and no pain. Make sure you ask as us about the specific options we've created just for lawn and garden equipment.
A Workshop?
The do it yourself carpenter, craft booker or sewer who truly enjoys their hobby almost always gets their money out of a storage structure when they use it as a workshop. Instead of having to keep your tools and supplies packed up and dragging them out each time you want work on it, a storage shed used for a workshop will let you leave your supplies out so you can come and go as you please. Hobbies are supposed to be fun, right? By having a separate designated area for your workshop or hobby room, we'll be you'll be more motivated to work on your crafts.
Your Own Private Retreat?
Rather than a costly construction project, one of our pre-made storage sheds can be a faster, more affordable way to add another room to your home. We've seen folks use their storage sheds as home gyms, an office, or a secret getaway. By choosing the right options, you can create an exterior and an interior that won't look or feel like a shed at all.
Are You Renting a Storage Locker?
Investing in your own storage shed can pay for itself in a matter of months. And after you stopped paying money on storage locker, then your shed is actually saving you money! And just think how simple it would be to walk a few steps to the back yard to get your treasure rather than spending gas driving 20 minutes to your local storage shed locker.
Step 2. How Much Space Will You Need?
After you know what you'll be using your new storage shed for, make sure you have a good idea of what you'll be putting into before you go shopping. Try to have an idea of how much you will be storing so you can make sure you will have enough space. The eye can play tricks on us- what you "think" will fit into your new storage shed may not all get in there. To combat this, create a list of everything you'll want to put into your new shed and compare that to our "Guide to Square Footage" below or bring your list in with you when you come to our Display Lot and we can advise you on which space will meet your needs.
Shed Secret #1: Buyers' Remorse In Shed Buying
By far the most common "complaint" we get from our customers is "I should have listened to you and gone with something bigger." There always seems to be more stuff you want to put into your new storage shed than when you originally thought. It makes sense- by the 2nd or 3rd weekend, when you really start appreciating you can park both cars in the garage again, and you get use to having a neat and orderly home because you have everything organized in your storage shed, you probably will think of other things you want to store in it.
Guide to Square Footage
Square Footage Range
Good for storing…
We Recommend…
96 square feet to 120
Garden Tools, Push Mower and a Snow Blower, a little bit of boxed storage
8' wide x 12' long good for small backyards, don't need a lot of storage. A Riding mower here would be a tight fit. The smallest structure- a 6' wide by 8' long are less than 50 square feet.
140 square feet to 180 square feet
Lawn Tractor and push mower and snow blower. Still room for a small workshop. Use wall space for garden tools. Space leftover for box storage
10'wide x 16' -160 square feet works well for nearly all our customers. Most popular size. Fits all the important items but not a lot of room to walk around. Pay special attention to where you will place your riding mower.
240 square feet to 280 square feet
Lawn Tractor with the attached bagger, and push mower and snow blower. Longer walls mean more hanging space for garden tools. Still have room to devote one end for 8' x 12' workshop
12' wide x 20' long is the best seller in the large shed category. If extra space to walk around is important, or you want some leftover room for a functioning workshop, going with this larger size won't disappoint.
280 square feet or higher
Vehicles- autos, trucks, small hobby tractors, ATVs, classic autos, boats, and all the items listed above
14' wide by 28' long are the dimensions for our popular 1 car garage model. Two car garages can be as large as 24' by 36'.
 
Step 3. What Style Do You Like?
You've spent all that money and time on making your home a real show-place. And depending on where you place your new storage shed, it could get just as much "curb time" as your home. Make sure not to detract from the appearance of your home and property by not paying attention to the appearance of your structure. You can select from over 11 styles to complement it in a truly unique way. Match roof lines, materials, door and window combinations- make sure you know all of the free choices you have to select a beautiful storage structure. For a full range of choices, check out the description on any shed page.
Now that you're familiar with some things to know before you buy your new shed, you're ready to make a purchase! Browse our selection of sheds today.