Submitted by

SchwebAdmin

on Thu, 02/16/2023 - 08:49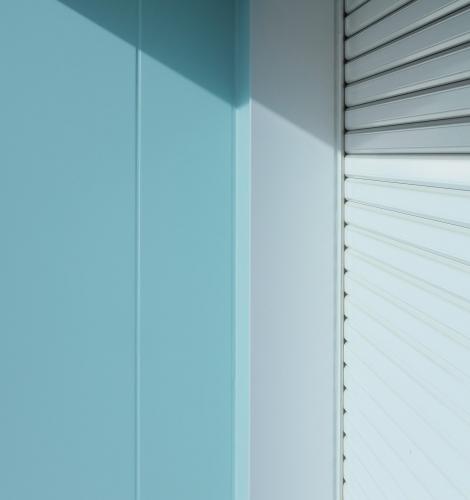 One of the most important decisions you'll make when buying a shed is the type of siding you choose. While your choice of siding may ultimately come down to maintenance and which style you prefer, there are some notable differences to be aware of. Keep reading to learn more about vinyl and wood siding, the two most popular types of shed siding.
Durability
Compared to wood siding, vinyl siding lasts the longest. When properly maintained, a shed with wood siding can last around 20 to 25 years while vinyl sheds can last over 25 years. Buying a storage structure can be a big investment so you'll want it to last you a long time. To match your investment and give you peace of mind, all storage structures at Space Makers have a 5-year warranty to guarantee that the building you're getting is high quality and dependable.
One of the best components of vinyl siding, and the reason for its long lifespan, is its waterproof quality. After rain or snowstorms, you'll need to inspect your wood siding more closely than vinyl siding as it's more susceptible to water absorption and damage. This also means that vinyl siding is less prone to mold and rot. No matter how durable a paint or finish is on your wood shed, if you live in a climate with high humidity, rain, and snow, your wood shed may not last as long as a vinyl shed.
Maintenance
Surrounding Area
Wood siding is a classic choice but will take more work to maintain. If you aren't able to commit the time and energy needed to properly maintain wood siding, your shed can break down from termites, mold, and rot. It's important to keep the space surrounding your shed free of brush and vegetation no matter the siding. However, if you are unable to remove the surrounding brush, a vinyl shed is the better option. This is because vinyl siding is not absorbent and isn't at risk of trapping moisture.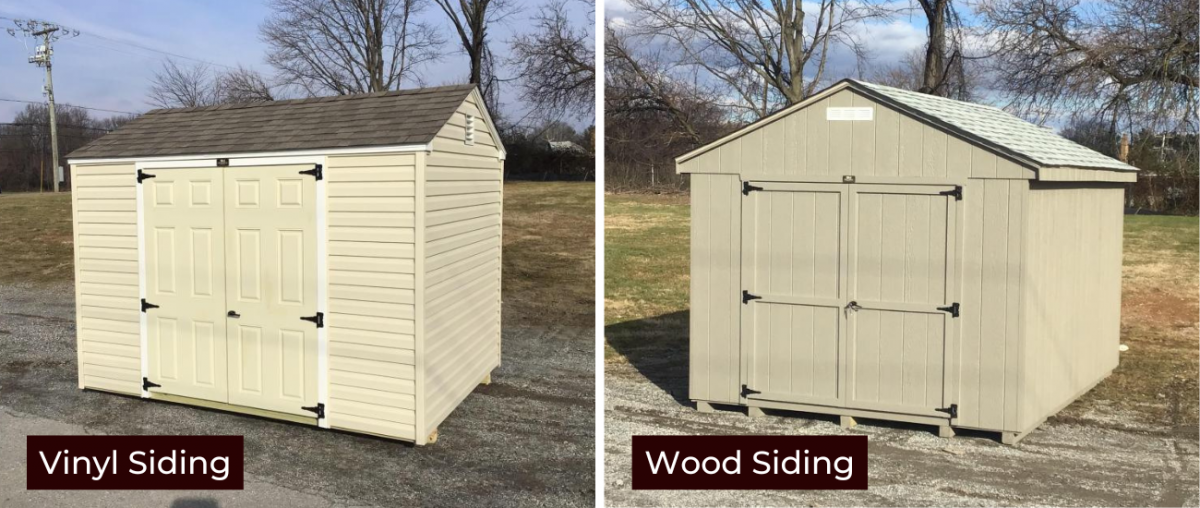 Insects
Sheds with wood siding are likely to attract insects such as carpenter bees and termites that will cause damage to your shed. If you don't repair the siding that was damaged by these insects, the small holes they drill in the wood will make your shed deteriorate faster over time and can compromise the storage you have inside it. Thankfully, this insect-inflicted damage can usually be fixed with a bit of caulk.
Cleaning
Vinyl siding is easier to clean than wood siding. While wood siding can require special cleaners and care, all you need to clean your vinyl shed is water and mild soap. No matter which siding material you choose, it's normal for mildew and mold to grow on your shed's exterior. However, it's much easier to remove mildew and mold if your shed has vinyl siding. Additionally, sheds with wood siding will eventually need to be repainted to keep the siding durable and to maintain a strong barrier against moisture. If having a low-maintenance shed is a top priority for you, vinyl siding is the way to go.
Budget
The upfront costs of wood siding are cheaper than vinyl siding. However, over time you may end up spending more money and time on wood siding than vinyl siding. The costs of painting, staining, making repairs, and inspecting for signs of trapped moisture can add up over time. If upfront costs are a concern to you, our affordable painted wood siding is right for you. If you're concerned with maintenance costs over time, you should go with vinyl siding since it will save you money in the long run.
Aesthetics
Color
Both wood and vinyl siding offer various color options. However, when you buy a wood shed there's more room for customization after the purchase. With wood siding, you can easily repaint your shed in a different color. For example, if you move and bring your portable shed with you, you can paint your shed to match your new house. Vinyl siding cannot be painted over as the paint will crack and flake off. If you'd like to change the color and appearance of your shed in the future, a wood shed is the better option.
While some companies have a limit on the color options available to customers, Space Makers can create custom colors for you. For both vinyl and wood siding, all you have to do is bring us a sample of the color you like and we'll create it.
Style
Overall, your personal preference and style will help you decide which shed siding to go with. If you prefer a natural, more traditional shed then wood siding is a great choice. There's a reason wood sheds have been around for so long! Sheds with wood siding have a classic, timeless style that blends well with nature.
If you would like a shed that has a cleaner, contemporary, and more modern look, vinyl siding would be your pick. As most homes have vinyl siding, vinyl sheds match better with houses than wood sheds. If matching your shed with your home is a priority for you, a vinyl shed will be your ideal siding material. While there are various points to consider when deciding between vinyl or wood siding, your personal preferences, style, and priorities will guide your decision.
Ready to start the process of creating your own storage building? Space Makers has a 3D online shed builder where you can create your own custom shed. After going through all the options you want such as style, size, doors, windows, siding, flooring, and accessories, you can submit your custom structure and get a free quote. Not sure which shed size or style to go with? Speak with one of our storage specialists to get started.