Submitted by

SchwebAdmin

on Thu, 08/31/2023 - 09:35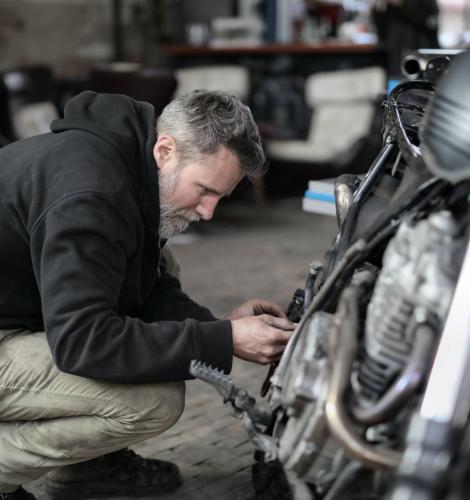 Similar to your home, garages can be a common target for burglars. It's also the place where you most likely store some of your most valuable belongings, like your cars, power tools, and lawn equipment. That's why it's important to go with a reputable manufacturer, like Space Makers Sheds, who construct their garages with security in mind. Whether you have an attached or detached garage, here are some tips to increase your garage's security for additional peace of mind.
Exterior Doors & Windows
Let's start with your standard-sized doors and windows. Just like the doors and windows in your house, you'll want to keep them all locked when they aren't open. Deadbolt locks are the most secure type of door lock, but every door should at least have a locking doorknob. At Space Makers Sheds, all garages come with a standard security package to keep your storage protected. All possible points of entry, including windows, have locks installed at no additional cost. If you'd like to make your windows hard to see in, install shades or a translucent film to block burglars from peering into your garage and finding valuables. If you're still concerned, you can install window bars to make entry impossible.
Automatic Garage Doors
Automatic garage door openers should automatically lock, so you shouldn't have to worry too much about burglary. That being said, if you're not opening your garage door for an extended period of time, like on vacation, you should manually lock your garage door from the inside (as long as you have another door for entry). Another precaution to take is to unplug your opener. This will stop any burglars who somehow got a hold of your code or remote control.
Manual Garage Doors
Manual garage doors should always be locked when they are not open. If you feel you need extra precautions, you can place additional locks on your garage door - just like with automatic doors. Padlocks on its track will work great for this, but even something cheap and simple, like zip ties, will do.
Other Garage Security Tips
Apart from ensuring potential entryways are locked, there are a few other things you can do with your garage to dissuade thieves from targeting your household. First, install exterior lighting. Burglars don't want to be seen and it makes looking inside windows harder. During routine maintenance inspections, ensure your garage doors are in good condition. A dented door or gap at the floor could be all a burglar needs to force a garage door open. Because the durability and strength of your garage door are so important, Space Makers' garages are equipped with high-quality, reinforced doors.
Lock down your tools and other valuables in toolboxes, cabinets, or other chest. Not only will this keep you organized, but it also hides those expensive tools from thieving eyes. Finally, you can install security cameras. Whether you have a professionally monitored system or a DIY system, security cameras will often turn burglars away - or at the very least help catch them and return your belongings in the worst-case scenario.
If you're looking for a secure way to store your belongings, consider a detached garage from Space Maker Sheds. We offer many styles, with single or double doors, optional lofts, and exterior doors and windows, all with sturdy locks and durable materials. Check out our options or contact us for a free quote today!