Submitted by

SchwebAdmin

on Tue, 06/20/2023 - 16:15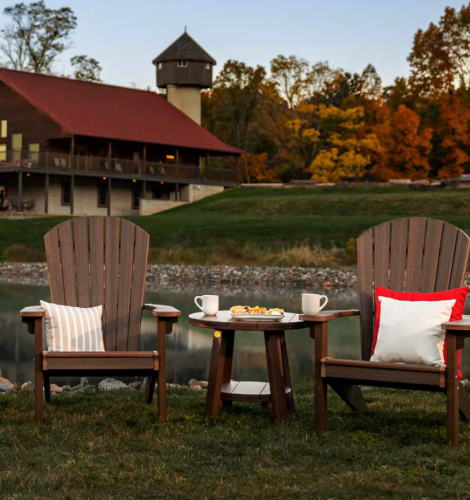 Outdoor seating is one of the best ways to relax in nature and the great outdoors, but not all outdoor seating is created equal. Poly lumber furniture has a reputation for being superior outdoor seating and with good reason. One of the most popular types of poly lumber seating is the poly Adirondack chair. Keep reading to see outdoor enthusiasts' favorite uses for these comfortable, yet tough chairs.
Campfire & Fire Pit Seating
Poly lumber Adirondack chairs are popular among campfire lovers. These chairs are heat resistant and come in multiple styles such as regular, settee, folding, and kid-size. Although heat resistant, poly Adirondack chairs are not fireproof so we recommend keeping these chairs around 2-3 feet away from your fire.
These chairs are strong enough to withstand daily outdoor use and won't crack, splinter, split, or warp. Poly furniture can be left outside in all seasons, meaning you can keep these chairs around your campfire throughout the year. These Adirondack chairs are ideal for firepit seating because of how sturdy and durable they are, keeping people of all ages safe around campfires. For people who frequently gather around a campfire for relaxing outdoor evenings, poly Adirondack chairs are the way to go.
Fishing Seating
These chairs are also ideal for fishing enthusiasts. Poly lumber Adirondack chairs are comfortable for lounging and have a foldable option for easy transportation. They're weatherproof and can be kept in your favorite fishing spot throughout the year. While you can keep your poly Adirondack chair outside all year long, foldable versions of this chair make it possible to bring it with you to different fishing spots.
These chairs are more sturdy, comfortable, and supportive than folding canvas chairs. While folding canvas chairs can easily tear, sag, and break, poly Adirondack chairs stay in excellent condition for decades. Adirondack chairs are also quite versatile and adaptable to different terrain, able to sit firm on both uneven ground and solid surfaces.
Beach Seating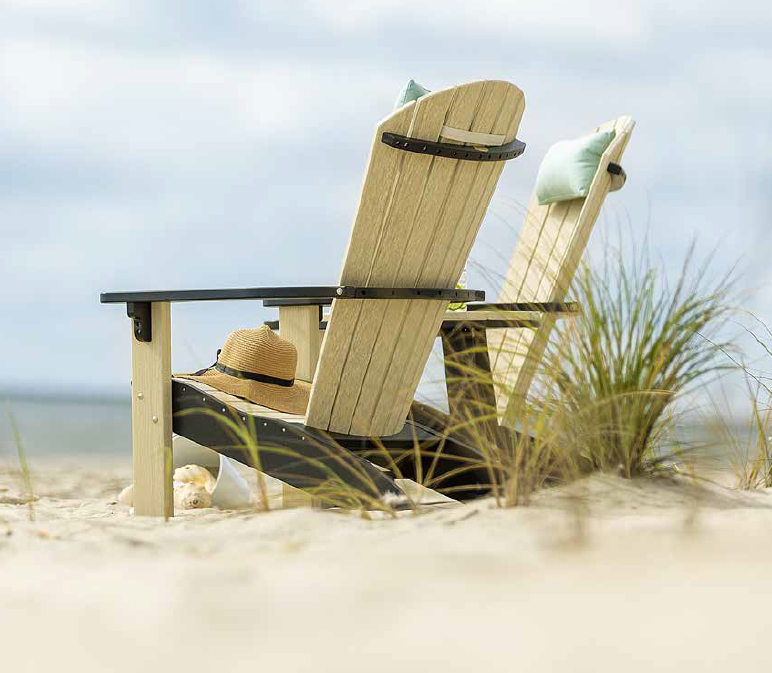 Sitting on the beach is one of the most popular uses for poly Adirondack chairs. These chairs are built to be protected against damage from UV rays, salt water, sea spray, and sand. Adirondack chairs can be kept in the sand throughout the year without facing deterioration from seawater, extreme heat, seaweed, wildlife, and coarse sand. These chairs are easy to clean off, making them ideal for enjoying sunny and windy days at the beach.
Stationary Adirondack chairs are sturdy and heavy, making them difficult to steal or be moved by strong winds. You can leave these chairs outside your beach house without worrying they'll blow away or be stolen. With its weatherproof properties, you can spend less time maintaining your beach chair and more time reclining on the beach.
Patio Seating
Plenty of outdoor furniture requires constant maintenance and isn't totally weatherproof. With poly furniture Adirondack chairs, you don't have to worry about bringing your furniture inside or covering it up when it rains. These chairs are waterproof and can be left outside even in the winter! Adirondack chairs are also easy to mix and match with other types of poly furniture, including different sofas, accent tables, and footstools. They can even blend with new and existing outdoor furniture, so you can keep what you have and don't have to worry about matching a particular style.
While the majority of outdoor furniture materials will last around 10 to 20 years with regular care and maintenance, you can expect outdoor poly furniture to last 20 to 30 years with minimal maintenance needed. Your poly Adirondack chairs will stay waterproof without any additional products or sealing, saving you time and money.
Poolside Seating
Similar to beach seating, poly lumber Adirondack chairs are perfect for lounging by the pool. The waterproof nature of these chairs means you can sit on them immediately after coming out of the pool or even place them directly into your pool. These chairs don't absorb moisture and won't grow mildew or mold, so no extra care is needed to keep them protected against water.
Additionally, because they don't absorb moisture, you can lay towels on these chairs to dry in the sun without ruining the chair's surface. Poly furniture doesn't fade in the sun, so you won't have to worry about discoloration from placing towels and other items on the chairs. With the heaviness and durability of poly Adirondack chairs, you can place them in the shallow end of your pool without worrying about pieces chipping off or the chair floating away. These are excellent chairs for safe and comfortable poolside (or inside the pool) seating.
Cabin & Lakeside Seating
Poly lumber Adirondack chairs stay in great condition even in wooded, remote areas. These chairs sit well on various mountain terrains that can range from dry and rocky to muddy and slick. Even in damp weather, including in autumn when leaves are falling, poly Adirondack chairs are resistant to mildew, rot, and mold.
These long-lasting chairs are protected against damage from bugs and animals. Termites, carpenter bees, and other insects cannot eat away or make a home inside these chairs like they can with hardwood Adirondack seating. Additionally, curious wildlife and pets cannot scratch or chew up this material. Best of all, poly furniture is environmentally friendly. So while you're enjoying the lush greenery and fresh air of the outdoors from your poly Adirondack chair, you're helping nature stay beautiful, protected, and thriving.
Want to spend more time enjoying the outdoors with little worries about maintaining the furniture you rest on? Check out low-maintenance poly lumber chairs and other outdoor poly furniture online.
For more information on poly furniture options and recommendations, contact our team at Space Makers.