Submitted by

SchwebAdmin

on Wed, 07/19/2023 - 16:02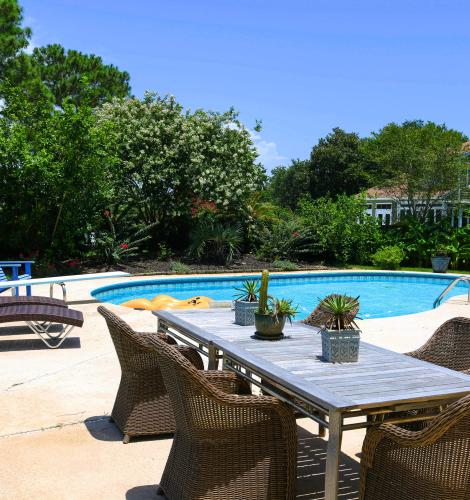 Adding a pool cabana to your backyard is an exciting choice. However, designing your own cabana can be a daunting task with all the different styles, sizes, materials, and options available. To help you find the best pool cabana for your backyard and family, we've put together the guide below.
Cabana Uses
In order to design your ideal pool cabana, you need to know what you want to use it for. Some ideas include using your pool cabana as a bathroom, changing room, pool storage space, wet bar, counter dining, or even a guest suite!
Pool cabanas used as bathrooms and changing rooms will have different sizes, layouts, and features than wet bar cabanas with counter dining and TV entertainment. Once you know what your cabana will be used for, you can begin your search.
List Top Priorities
Start by making a list of what's important for your family to have in a pool cabana. Do you want a cabana that can be used as a bathroom so water isn't being tracked into your home? Do you need extra storage space for pool accessories and equipment?
When you take the time to think about what your household mainly wants and needs, you can narrow down your search and make decisions faster.
Cabana Size
While you may want to jump ahead to all the fun features you can add to your custom cabana, you must first assess how much space you have and how big you want the structure to be. Keep in mind that your cabana should be easily accessible from the pool without disrupting your family's preferred walkways.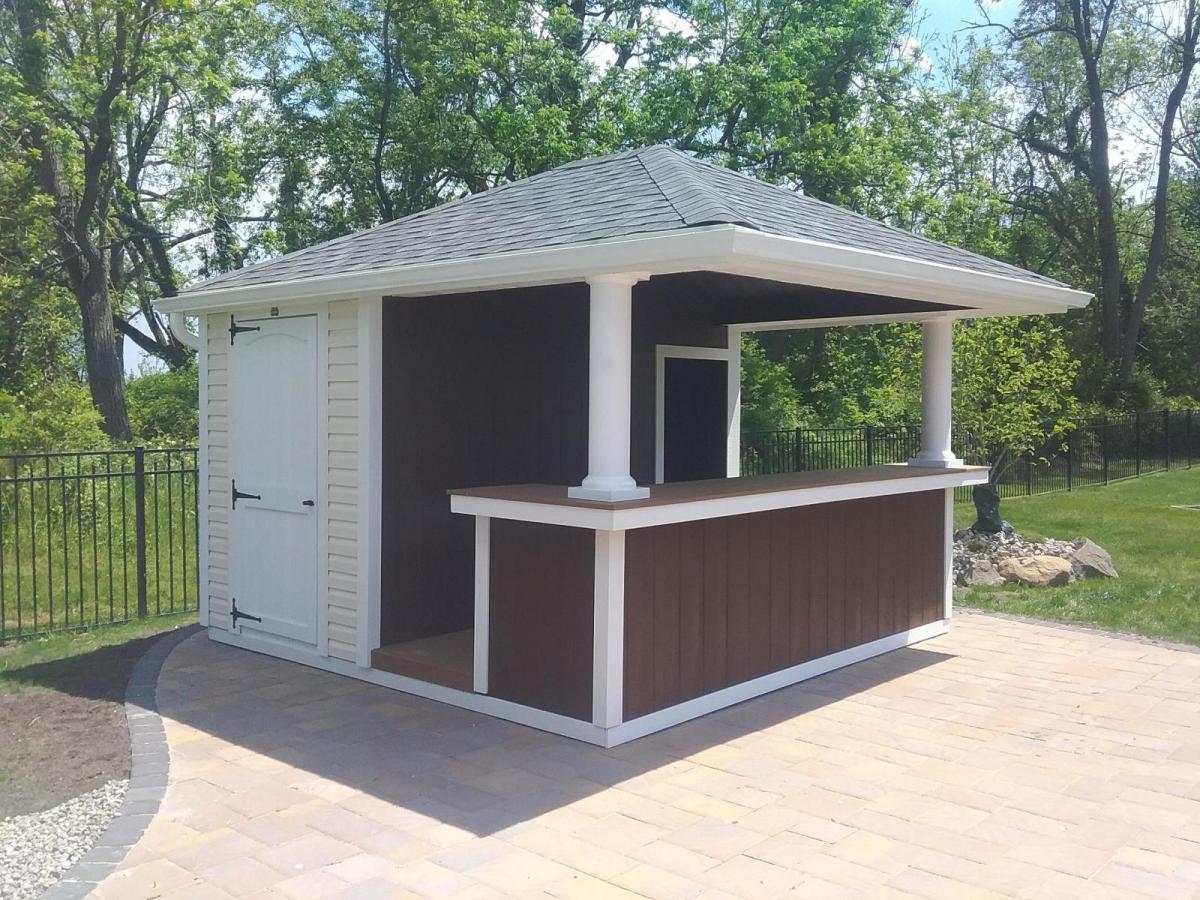 At Space Makers Sheds, you can find perfectly sized cabanas for all uses and backyard dimensions. These painted wood and vinyl pool cabanas range in sizes from 10x12 to 12x32; however, be aware that If you want to add a large cabana to your backyard, you may need a permit. You can find more information on permits by checking with your local ordinances.
Cabana Roofing
Your cabana's overall style will be influenced by the roof material you choose. Asphalt roofing is ideal for a traditional look while a modern look is better achieved with metal roofing. Metal roofs will initially cost more upfront but over time these costs even out as asphalt roofing requires routine maintenance.
While both roof materials do well in cold and rainy climates, metal roofing comes out on top for durability against bad weather conditions. If you live in an area that is frequently hit with bad storms, strong wind, and heavy snow, a cabana with a low-maintenance metal roof is an excellent choice. If you want a roofing material that is affordable, durable, and never goes out of style, an asphalt roof may be right for you.
Cabana Siding
Both our painted wood and vinyl sidings are made with durable, high-quality materials. Painted wood cabanas cost less upfront than vinyl cabanas but will need more upkeep over time. While wood cabanas are incredibly durable and blend better with nature, they are still susceptible to damage from insects and moisture if not properly maintained.
Deciding between a vinyl cabana and a painted wood cabana comes down to the style you want. Vinyl siding is a great choice if you want a contemporary look, while painted wood siding is a classic, popular choice. The color of your cabana is also entirely up to you. Space Makers can create custom color cabanas from any color sample you provide.
Cabana Features & Ideas
After deciding the cabana's purpose, size, and layout, you can choose which features you want your cabana to have. Below are some ideas for creating your dream cabana:
Seating Area - Install a ceiling fan, fireplace, TV, charging stations, and ceiling lighting to create a well-lit but shaded area for sitting and talking.
Sound System, TV, & Speakers - With a sound system and speakers, you can easily play music during parties, listen to podcasts while lounging by the pool, or watch tv while relaxing in your pool.
Wet Bar - Add a sink, mini or full-size fridge, beverage tap dispenser, grill, pizza oven, and string lighting to create an atmospheric wet bar with counter dining.
Bathroom & Changing Room - Have a combined bathroom and changing room with a mirror, sink, toilet, and shower for rinsing off after swimming.
Going off the list of priorities you made, decide which features are most important for you and your family. With the help of Space Makers, your backyard pool cabana will be set up in no time.
Looking to design your own custom cabana? Contact Space Makers Sheds or request a free estimate to get started.